Bayer Leverkusen's director of sport Simon Rolfes has warned Newcastle United off a move for Moussa Diaby, according to The Daily Express. 
What's the latest Newcastle United transfer news?
Newcastle are thought to have made enquires over a move for the Frenchman, who scored 13 goals and registered 12 assists in 32 Bundesliga appearances last season.
At 22 and performing in one of Europe's major leagues, so much so he has been involved in France's senior set-up, the former Paris Saint-Germain youngster naturally looks an exciting target.
Indeed, Transfermarkt reporter Stefan Bienkowski claimed the chances of Diaby leaving for an English club with deep pockets was "50/50" when writing on Twitter in May.
Still, there has since been a development. Football Insider suggest Newcastle have been put off by Leverkusen's £60m price tag, with the club now reportedly looking at other targets. While head coach Eddie Howe has been well-backed by the Saudi Arabian owners, the summer budget was reported by The Athletic to be around £60m-£80m, albeit supplemented by potential player sales.
To blow most of that on one player, talented as he may be, would not fit in with the transfer ethos displayed in the post-takeover era thus far.
What did Rofles say about Diaby?
While Rofles would not be the first club director to stress a player is not for sale in an attempt to drive up the price, the Leverkusen official was pretty adamant on that front when speaking to The Daily Express.
"No, no. For sure we want to keep Moussa for as long as possible," he said.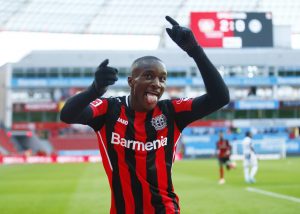 "I know a lot of scouts have been sitting on our tribune during our matches because we have a lot of interesting, exciting young players with high potential.
"So, it's the same with Patrik Schick. We do not have any offers for him but we are not even looking for that at the moment. We would like to keep him and play with him next year in the Champions League."
What has been said of Moussa Diaby and Newcastle?
Speaking to Boyle Sports, former Newcastle star Chris Waddle urged the club to make a move.
"Moussa Diaby from Bayer Leverkusen would be my number one signing," he said.
"He's quick and sharp and has been linked with the club before. I know they were linked with Christian Eriksen who is a quality player but he's said he wants to play in Europe which is why he's not signing for Brentford at the moment.
"Newcastle have to convince players of a good standard to go to St James' Park. They're on the up now, but they need to turn the corner and make the next step. It'll be very interesting so see who they bring in."