The fact Newcastle United have "far too many players they no longer want on inflated wages" is a "mess", according to Luke Edwards. 
What's the latest Newcastle United transfer news?
Eddie Howe has spoken of the importance of moving players out of his squad in order to grow into the next phase of the rebuild, while there is also a need to balance the books in terms of FFP.
Indeed, that's without even mentioning the fact the squad was already so big the likes of Jamal Lewis, Ciaran Clark and Isaac Hayden (albeit injured) were left out of action entirely from January, not even registered for Premier League competition.
Selling, however, will not be easy. The club had to keep paying Herni Saviet despite barely featuring and Achraf Lazaaar was paid to leave due to a lack of interest and, given the money Premier League players are on, finding buyers who could tempt them away from St James' Park could be difficult.
Take Dwight Gayle, for example. A prolific striker at Championship level, West Brom's technical director Luke Dowling told the BBC in 2019 that the club could simply not afford to pay a "Premier League contract" even after the forward bagged 23 times in 39 games.
According to The Athletic, the squad's average wage last season was £54,162-per-week. Given Howe was reportedly eager to keep the wage structure in tact in January and not overpay the likes of Kieran Trippier and Bruno Guimaraes, it's reasonable to assume that figure isn't skewed by particularly (in a Premier League context) high salaries for key players.
That sort of money will surely be difficult for the likes of Jeff Hendrick, Karl Darlow, Federico Fernandez, Jamaal Lascelles and others to get at this stage of their careers.
What has been said about Newcastle's need to sell?
Taking to Twitter, Edwards wrote: "They've got far too many players they no longer want on inflated wages, with several years remaining on their contracts. To be blunt, it's a mess, not of the new regime's making, but which they need to clear up urgently."
How do Newcastle go about selling players?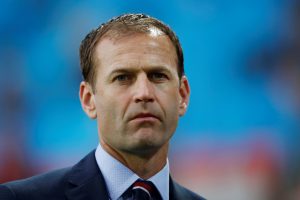 The Athletic also claimed one of Dan Ashworth's early tasks now he's in place as the first sporting director of the PIF era will be "involved in all dealings" but "it is outgoings, rather than incomings, where his assistance will be most keenly appreciated."
Howe is reportedly keen to ensure the squad who report for pre-season duty in July is made up of the players he wants to work with heading into his first full campaign in charge.
Given the scale of the task ahead, it's hard to see that happening.