Newcastle United and Everton could be set for a stand-off over their respective valuations of Dominic Calvert-Lewin, according to The Daily Mirror. 
What's the latest Newcastle United transfer news?
With Newcastle keen to bring in another striker this summer, the England international has been touted as a potential target. While last season was undoubtedly disappointing, Calvert-Lewin was Harry Kane's back-up for England at Euro 2020 and scored 16 Premier League goals during the 2020/21 season.
Everton are believed to be needing to sell to balance the books, although that does not mean the former Sheffield United youngster would come cheaply. Given the club sold Romelu Lukaku to Manchester United for £75m in 2017, it is said that such a fee would likely be a starting point in any negotiations.
Newcastle, meanwhile, are believed to be aware of his injury problems and any bid would surely reflect that.
Should Newcastle pay up for Calvert-Lewin?
It's difficult to imagine a scenario in which Newcastle pay anywhere near the fee mentioned in the report.
Craig Hope, Luke Edwards and Chris Waugh have all hinted at a summer budget of less than £100m, albeit one likely to be supplemented by player sales. Eddie Howe, meanwhile, has stressed that this summer will not be a period of lavish spending amid FFP concerns.
That's not to say Calvert-Lewin would be a bad signing, it's just that kind of fee seems far too much for a player not exactly in the top level. Perhaps a deal could be done for less, although Everton do have previous for digging their heels in when it comes to selling top stars.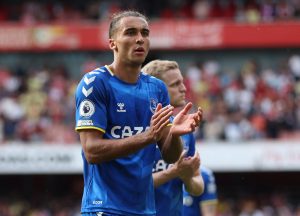 Indeed, the whole problem with Callum Wilson is his injury record. Shelling out big money on another player to have missed large chunks of this season does not exactly seem the best use of funds.
What has been said about Calvert-Lewin and Newcastle?
Speaking to Football Insider late last month, pundit Paul Robinson suggested Newcastle should steer clear of the England man and instead focus on Manchester City's Gabriel Jesus.
"Callum Wilson is a top player," he said.
"We saw at the end of the season just how important he is for them.
"He is injury prone though. He has had an unfortunate time with injuries.
"They play with one up top right now with two players out wide. Is Calvert-Lewin versatile enough to play as one of the wide players, probably not. I also question whether he is better than Wilson.
"He has had a hit and miss season. He scored an important goal late on but other than that he struggled.
"I think signing him would be a risk when you take into account how much Everton would want for him.
"I think they should go for someone like Jesus instead. He is the type of player Newcastle should be going after."