Newcastle United are among the clubs keen on a move for Adama Traore, according to 90 Min. 
What's the latest Newcastle United transfer news?
Newcastle are believed to want to strengthen their attack this season with both a new striker and a winger – namely Bayer Leverkusen's Moussa Diaby – touted as early summer targets.
Traore, meanwhile, joined Barcelona on loan from Wolverhampton Wanderers in January but the Spanish giants will not be keeping him long-term amid yet more financial difficulty.
Tottenham and Leeds are also believed to be interested, with Spanish international said to be keen on leaving Molineux this summer.
Should Newcastle sign Adama Traore?
Traore's qualities are obvious.
So strong and powerful, he is the only Premier League player to have rivaled Allan Saint-Maximin for dribbles per game over the past two seasons, finishing behind him last time out (albeit with having left for Spain in January) on 4.2 per game in comparison to Saint-Maximin's 4.3 over the same period.
During the 2020/21 campaign, the Wolves winger beat the Newcastle star with 4.1 per game compared to 3.8 (via WhoScored).
Still, the lack of end product from Saint-Maximin that frustrates so much is an issue with Traore. In 160 Premier League appearances, the 26-year-old has scored eight times and registered 16 assists.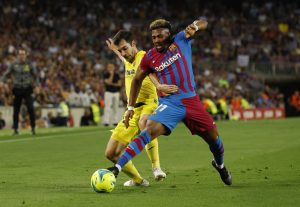 Clearly, there's no absolute guarantee Diaby would adapt to the Premier League, although the fact he ranks within the leading 90% of wingers playing across Europe's big five leagues over the past year (via FBREF) for non-penalty goals (0.45) and assists (0.40) at only 22 suggests he is much more prolific.
In comparison, Traore's averages for both stand at 0.05 and 0.20 respectively.
The Spaniard is able to operate from a deeper position of course, although Eddie Howe has not tended to deploy wing-backs during his – admittedly short – time on Tyneside thus far, while it's hard to see anyone ousting Kieran Trippier at right-back.
Surely, there are better options.
What has been said about Adama Traore?
Speaking prior to his move back to the Camp Nou, pundit Tony Cascarino labeled Traore's attacking output as "terrible".
"When he's at his explosive best, he's unbelievable," he said to talkSPORT.
"If you're watching him and you are thinking 'this guy is so quick, this guy is devastating,'
"His numbers are terrible, which is always concerning. He's got one [goal] this season and you're thinking how has he only got one goal so far? I know he had one chalked off yesterday.
"Three the season before that in all competitions and six the season before that. He's actually gone backwards in the last few years.
"Antonio Conte must see something that will get his numbers to be far better."