Eddie Howe has hinted it is one or the other when it comes to Callum Wilson and Chris Wood. 
What's the latest Newcastle United news?
With Wilson finally returning to action during the closing stages of Newcastle's 5-0 loss away at Manchester City, Howe – for the first time in charge of the club – has options in the striking department.
It's hard to doubt Wilson's quality, even if he should have scored at the Etihad, but Howe has also praised Wood for his overall game since a £25m move from Burnley in January.
Of course, the New Zealand international's record of two goals in 17 appearances across all competitions is slightly disappointing, but the 30-year-old has certainly played a part.
Still, Howe has adopted a 4-3-3 for pretty much his entire tenure so far and that does not look like changing.
Who should start, Wilson or Wood?
As effective as Wood has been in helping give Newcastle a focal point, it's hard to make a case for him to regularly start ahead of Wilson.
The England international remains the club's top scorer despite missing months of the season with 6 goals in 15 League games and has been the most reliable source of them since moving to St James' Park in 2020. Indeed, the idea of him linking up with Bruno Guimaraes and Kieran Trippier going forward is hugely exciting.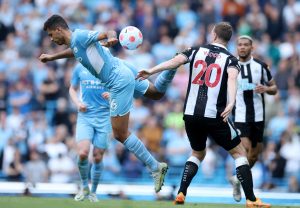 That's not to say the two can't play together, of course. According to WhoScored data, Wood has won 6.9 aerial duels per game this season, and Wilson has certainly thrived in playing off a target man before.
At the beginning of last season, the former Bournemouth star appeared to combine well with Andy Carroll and a partnership was something Steve Bruce – who admittedly is not exactly the finest tactical mind around – did hint he was considering.
As a potential plan B, perhaps a partnership could work.
What has Howe said about Wilson and Wood?
Speaking after Wilson returned to the team, the head coach said (via The Northern Echo): "We're playing in a different way to that – not with two strikers. I'm not saying it would be impossible, but I think it would maybe be difficult for us to incorporate both into the same team, and still produce a team that is strong enough off the ball to withstand that.
"I think a lot of the problems with two strikers, and why I wouldn't say it's gone out of the game, but it's probably going out of the game, is because off the ball, you have big spaces. Your midfield and back four find themselves with huge spaces to defend.
"It's not something I'd say that I'd never do, but it's certainly not something that's in my immediate plans to play that way."