Matt Ritchie believes Newcastle United can become one of England's biggest clubs again but urged supporters not to get "carried away". 
What's the latest Newcastle United news?
This summer, the first under PIF ownership, is expected to be a transformative one.
While head coach Eddie Howe has stressed that there will not be lavish spending for the sake of it, it's going to be incredibly exciting to see Newcastle attack a transfer window with some ambition.
Indeed, not spending hundreds of millions of pounds on superstar names does not mean the owners are not invested in helping the club climb the Premier League. Rather, it seems a gradual process will be adopted.
How far can Newcastle go?
Clearly, it's important not to get too carried away, although just how long the team sustained their form at the turn of the year speaks of a side with genuine quality, rather than simply hitting a hot streak.
With the right signings, both in terms of quality and character in equal measure, there is little reason Howe cannot try and qualify for European football in at least some capacity. West Ham, Leicester, Brighton and Wolves all look within touching distance, even if catching the top four in one window seems out of reach.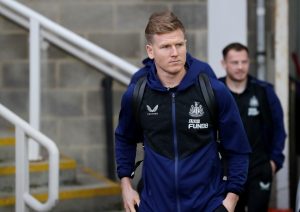 What has Ritchie said about Newcastle?
Ritchie, who is expected to leave St James' Park, was speaking to Boyle Sports.
"The sky's the limit, the manager talks about that a lot, don't ever put limits on yourselves or collectively so that's a huge message from him.
"I think we have to be very aware that we're in the best league in the world and there's many teams wanting to achieve what we're trying to achieve so it'll take time – we have have to manage that carefully because as all football fans, along with the media, they get carried away so the expectation needs to be managed. Certainly in time, this club has the potential to be one of the biggest clubs in England again."