Kieran Trippier insists the owners at Newcastle United are taking the "right steps" to compete with the likes of Manchester City going forward. 
What's the latest Newcastle United news?
While losing to Liverpool and City in quick succession should be of little surprise, the results – and the performances – only underlined just how far Newcastle have to go.
Clearly, these are early days in the post-takeover era and the idea of beating either during a season in which both are on course to reach over 90 points is somewhat outlandish, although the team have to show more next season.
That's not to say they need to starting beating either but the owners will be wanting to see an improvement, particularly given Amanda Staveley has targeted winning trophies within the next few years.
Whether or not that is an achievable target in an era dominated by Jurgen Klopp and Pep Guardiola remains to be seen, although there will surely be more pressure next season to at least show more against the leading teams.
What are the next steps for the Newcastle owners?
To their credit, most of the decisions the owners have taken during their short stint in charge have worked out.
While there's an argument to suggest Steve Bruce should have been sacked sooner and the failed pursuit of Unai Emery was somewhat embarrassing, the decision to bring Howe in has paid off immensely. From there, the recruitment in January was spot on and it's promising to see the club will not be held to ransom despite their newfound wealth.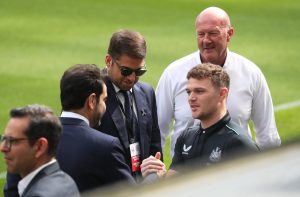 Elsewhere, plans to upgrade the training ground have been submitted while the club await the arrival of the highly-rated Dan Ashworth to come in as a sporting director.
What did Trippier say of the owners?
Speaking after the loss at City, Trippier told The Chronicle: "Like I said when I first arrived here, it's not going to happen overnight, it could take five years, it could take six years and everybody has to be patient but they are taking the right steps and that's all you can do, you can't just go all guns blazing.
"You see the way Man City have done it and everyone is looking at Newcastle now."
"You have to take the right steps to move the club forward and that's what Newcastle are doing."