The decision to offer Dwight Gayle a new contract and send him on loan to West Bromwich Albion as part of a deal to bring Salomon Rondon to the club was derided by Newcastle United's former owners, according to The Athletic. 
What's the latest Newcastle United news?
Fans will need little reminding of the frustrations Rafa Benitez worked under when Mike Ashley was in charge of the club, with the Spaniard offering a parting shot lamenting the Sports Direct mogul's lack of ambition following his exit in 2019.
Prior to that, Benitez pushed hard to bring Rondon to Newcastle on loan, seeing a first offer rejected in July 2018. Indeed, even that came after Newcastle bosses made it clear they would not pay an asking price of £16.5m for the Venezuelan following West Brom's relegation.
As a result, former managing director Lee Charnley got to work on setting up a "complex and bespoke" deal that would send Gayle on loan to The Hawthorns with Rondon arriving in the opposite direction. Gayle, however, was reportedly reluctant to leave and was duly given a pay rise in order to do so.
According the report, those in charge at the time believe the move was "the worst financial deal they had ever concluded."
Such was Rondon's impact on the team, Benitez was thought to be keen to bring him back in the summer of 2019, although Ashley instead moved for Joelinton, who cost £40m. While the Brazilian has made himself a key player now, that has only come about due to a change in both manager and position.
Was the Rondon/Gayle swap bad business?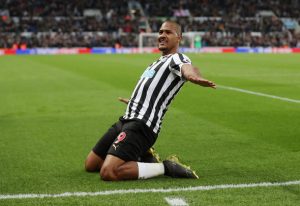 While, from a business standpoint, offering a player rarely used at the time more money (which SpotRac suggest is in the region of £40k-per-week) does not make sense, Rondon's capture was hugely important.
During the 2018-19 season, the striker (28 at the time) scored twelve goals and registered seven assists in 32 appearances. Of those strikes alone, three proved game-winning, directly winning Newcastle nine points. Hypothetically, Benitez's side would have finished nine points below their final total of 45, meaning Cardiff City in the final relegation spot would have been only two points behind.
Such was his impact on the team, safety was secured really rather easily.
Given the financial problems a second relegation in two years would have caused, it seems safe to suggest Newcastle got value for money, even if the deal wasn't exactly the most profitable from a normal standpoint.