George Caulkin provided some interesting insight into where Newcastle United go next while speaking on The Athletic Football Podcast. 
What's the latest Newcastle United news?
With Premier League safety all-but guaranteed after a sensational turn around in form following the appointment of Eddie Howe in November and wise investment in the January transfer window, Newcastle can plan for an exciting summer.
The first summer window under the PIF ownership and a whole pre-season under Howe should naturally lead to a huge improvement in the team if recent evidence is anything to go by and the idea of more signings like Bruno Guimaraes and Kieran Trippier is a mouth-watering prospect.
Still, anyone expecting a period of huge spending might be disappointed. Indeed, both The Athletic and The Daily Telegraph have suggested the summer budget will be lower than the one on offer in January.
Do Newcastle really need to spend major money right away?
A lower budget, of course, makes sense.
The perilous position Newcastle found themselves in heading into the winter market called for action as the idea of being relegated months after the protracted takeover finally went through was surely not worth thinking about for the new owners.
One of the great successes of the January window was the fact Newcastle appear to have brought in a number of good characters, rather than merely good players. Rather than rushing into ill-advised big signings simply for the sake of it, coherent planning in the long-term is a much healthier way of doing things.
Not spending hundreds of millions right away does not equal a lack of ambition. Newcastle have so much growing to do over the next few years and Rome simply wasn't built in a day.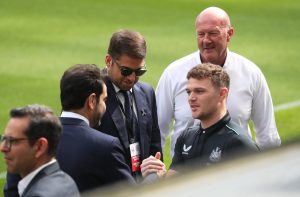 What did Caulkin say about Newcastle's next steps?
Speaking on Tuesday episode of the podcast, Caulkin said (38:24) "There's already been some sort of expectation management I suppose you could call that from Howe. Certainly last week, he said it's not going to be the revolution that people think it might be in the summer.
"They have FFP concerns which might sound crazy given they've not been there very long. They are very conscious of what happened to Everton and doing it the wrong way.
"They've [the co-owners] have spoken about it being a sustainable business, they spent much more money in January than they originally intended.
"I don't think they're going to be going out and spending hundreds of millions of pounds."