OPINION
Steve Bruce has surely found the winning formula when it comes to getting best out of Newcastle United attacker Joelinton based on Paul Robinson's remarks.
The Sky Sports pundit shared that Joelinton has been isolated at times upfront, but that against West Ham, the Brazilian forward impressed as he seemed to click with Allan Saint-Maximin and Miguel Almiron.
Robinson explained that the Magpies' attacking trio worked together more and as a result, not only did Joelinton have bodies around him but his side were able to cause the Hammers problems, which led to them getting a 3-2 win.
"Joelinton has been isolated at times but Almiron, Saint-Maximin and Joelinton seem to have clicked this week," Robinson told Football Insider.
"They seemed to work as a front three, they interacted, their movement was good, and Joelinton had bodies around him so he could find passes.
"With Almiron and Saint-Maximin being higher up the pitch, it caused West Ham a lot of problems and Newcastle looked a lot better this week, they looked like the team Steve Bruce has wanted them to be."
Robinson pointed out that Newcastle looked like the team Bruce wanted them to be on Saturday, so you feel the pundit is directly crediting the manager for making his front three work.
It's very believable to think Bruce had the trio working together during training in midweek, in order to understand each over more.
With this in mind, you do feel Bruce now knows exactly how to get the best out of Joelinton, and he needs to keep the same system in places to keep him flourishing.
The 23-year-old registered the first assist of his Magpies career against the Hammers, which is surely not a coincidence.
Joelinton was also notably able to stay higher up the pitch based on his heat map against West Ham (Source: WhoScored), with Almiron and Saint-Maximin wowing alongside him.
This is especially the case when you compare his heatmap from Saturday with his heatmap in the 1-1 draw with Watford, a game with Saint-Maximin didn't play, as you can see he isn't having to drop as deep to get involved. (Source: WhoScored)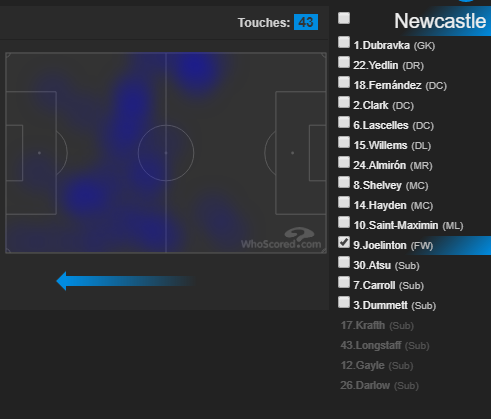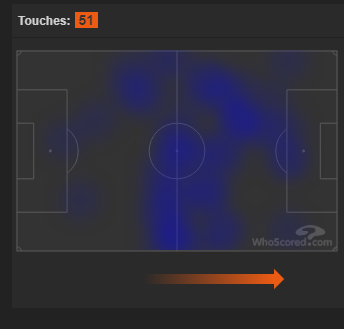 So with that in mind, and Joelinton earning his highest match rating so far in his Newcastle career on WhoScored for his latest display, you have to think Bruce has cracked his code and he will continue to excel in the coming weeks.