Micky Quinn has slammed Newcastle United duo Miguel Almiron and Joelinton after the 2-0 defeat against Aston Villa on Monday evening.
The Magpies legend claimed that normal service had resumed with the defeat after back-to-back wins in the Premier League against Bournemouth and West Ham United.
Quinn agreed with Rafael Benitez when admitting that Joelinton did not look ready for the Premier League as he once again struggled in the final third, failing to add to his one goal in this campaign.
Writing on his personal Twitter account on Tuesday afternoon, Quinn went on to blast Almiron as well, with the Paraguayan international still yet to be involved in a single goal since arriving at the club.
"After wins against West Ham and Bournemouth it was normal service resumed last night, two set-pieces conceded for the Villa goals, Almiron looks shot to bits and Rafa looks spot on about Joelinton not being ready for Premier League, just one goal between the two of them and £61million paid," he wrote.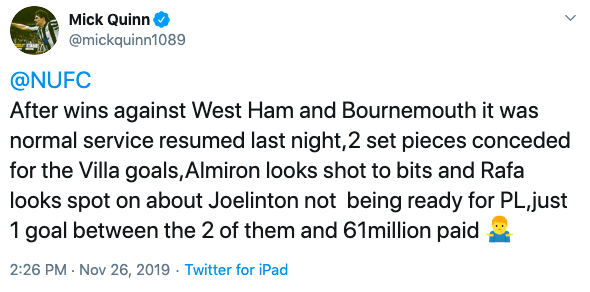 OPINION
It is hard to argue against Quinn's point of view on both Joelinton and Almiron after yet another disappointing evening on Monday. The South American duo are clearly trying their best in the final third, but there comes a point where that is not enough, and that point has clearly arrived. Allan Saint-Maximin has arrived along with them to complete a front three under Steve Bruce, and although the Frenchman also isn't being involved in goals, he is making things happen for his side. Almiron could be classed as an attacking midfielder rather than an out-and-out striker, but he isn't creating enough opportunities, either way, only averaging 0.7 key passes per game according to WhoScored – seven other Newcastle players are averaging more. It is only a matter of time before at least one of the forwards finds themselves on the bench, and the January transfer window could be the time to bring in a couple of fresh faces to put them under more pressure to perform.