OPINION
There is no hiding from the fact that everyone at Newcastle United will have been expecting more from Joelinton when he arrived in the summer.
The Brazilian joined from Hoffenheim and instantly became the club's new record signing, something that he hasn't proved to be worthwhile for the Magpies.
Joelinton has scored the single goal this season so far, and although it was a big one which sealed all three points against Tottenham – it isn't near enough.
Steve Bruce has been criticised for his system in this campaign, and it has left his new signing looking highly isolated at times in the final third, but the 23-year-old should have found the back of the net a lot more.
With January around the corner, and the transfer window nearly opening, Newcastle have already set their sights on improving their side for the second half of the season.
It was revealed by Scouts in Attendance on their official Twitter account on Saturday morning that Newcastle officials were on a scouting mission to watch FC Metz forward Habibou Diallo.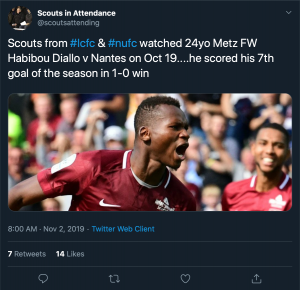 The football outlet claimed that the Magpies joined Leicester City in casting an eye over the forward midway through October, and the 24-year-old delivered – scoring the only goal in a 1-0 win against Nantes in Ligue 1.
Diallo has been in cracking form so far this season for Metz, with the 24-year-old scoring seven goals in his 11 fixtures – averaging a strike every 130 minutes of action.
The African talisman would bring much-needed speed in the final third, and the ability to create a chance out of nothing – averaging 3.1 shots on goal per game according to WhoScored.
Joelinton will know that he is not guaranteed a spot in the starting line-up every single week, and should his troubles continue, it won't be long until he could find himself on the bench.
With Newcastle scouts setting their sights on forwards, Joelinton will certainly be looking over his shoulder in the coming months.