OPINION
Mark Goldbridge has been vocal on the subject of Manchester United's links to Newcastle United midfielder Sean Longstaff once again and managed to contradict himself.
Longstaff played a key part in the Magpies' 1-0 win over Man United on Sunday, he made more key passes than anyone on the pitch (Source: WhoScored), and it seems likely that many Man United fans paid close attention to the 21-year-old's display.
After all the Daily Star reported at the start of October that after previously being put off by Newcastle's £55million valuation of Longstaff in the summer, that Manchester United were back in pursuit of the midfielder as they believe he could be snapped up for around £40million due to the "crisis" on Tyneside.
This fact didn't seem to escape Goldbridge, who is the host of The United Stand which is a show with 536,000 subscribers, as the YouTube personality appeared to give his thoughts on whether Longstaff was needed at Old Trafford.
Goldbridge admitted that Longstaff looked good but was similar to Scott McTominay, so he was baffled why the Red Devils wanted him, before implying he'd rather have Sean's brother Matty.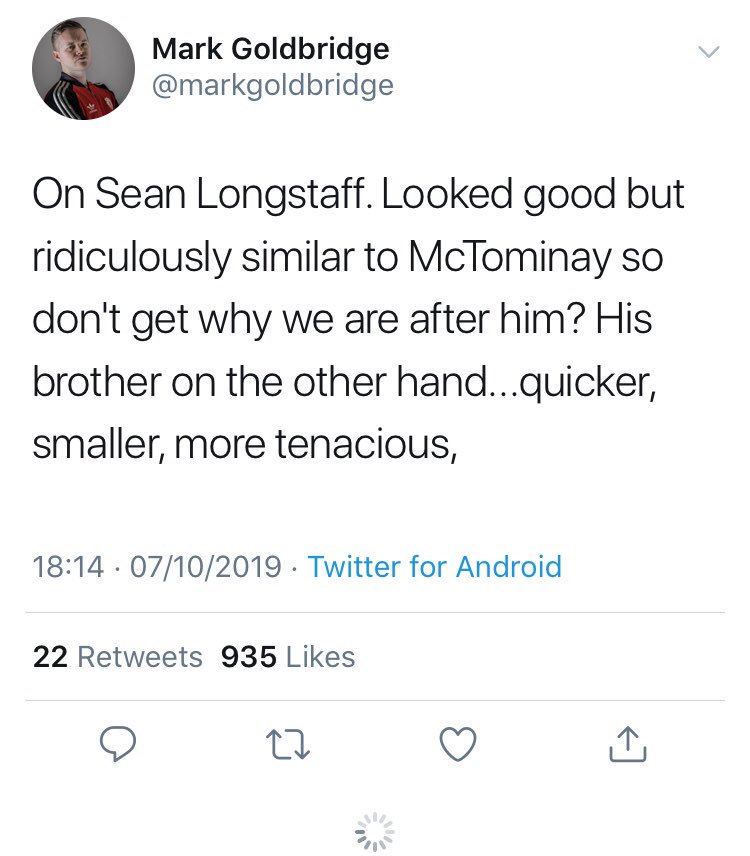 "On Sean Longstaff. Looked good but ridiculously similar to McTominay so don't get why we are after him? His brother on the other hand…quicker, smaller, more tenacious," wrote Goldbridge via Twitter.
The YouTube personality then elaborated on his view of Man United pursuing Longstaff (Sean) just hours later and stated that the club were right to walk away from 21-year-old in the summer as they needed players who were ready now, pointing out how the midfielder was injured over the summer.
"United walked away from Sean Longstaff deal because Newcastle wanted 50 million…Should've walked away at 15 million. His knee was ****** at the time and he's hardly played. We need players ready for now!" added Goldbridge.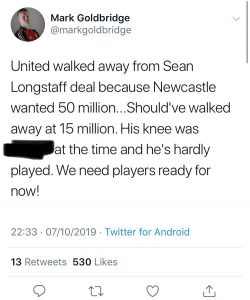 Goldbridge surely contradicts himself with his secondary tweet as he didn't think Longstaff (Sean) was ready to make the jump to Man United, having played so little, but in his previous tweet, he seemed tempted by the prospect of Matty.
When Man United were chasing Longstaff in the summer, he had featured nine times in the Premier League, and in case Goldbridge didn't realise, Matty was only making his second appearance, and Premier League debut, for the Magpies senior side on Sunday so how is he a player ready to play his football for the Red Devils?
Granted the 19-year-old was amazing on Sunday, he scored the winning goal, made one key pass, was never disposed during the game and made 42 passes, which was more than any member of Steve Bruce's side (Source: WhoScored), but still, if his older brother isn't worth Man United throwing money at, he clearly isn't either at this time based on Goldbridge's logic.
So why even suggest he is worth Man United's time, even if he is a different type of midfielder.
However, hopefully, Golbridge won't be able to even consider the possibility of Man United even thinking about signing either Longstaff brother as Newcastle are hoping to tie the pair down to new contracts and that should end any speculation they're exit bound anytime in the realistic future. (Source: Chronicle)