Labour MP Chi Onwurah tweeted Jeremy Corbyn to highlight what she noticed about Newcastle United's official statement on the party leader's remarks.
The Magpies released a detailed statement on their club website on Tuesday to reveal that the club were unhappy that Corbyn had "accused 'billionaire owners like Mike Ashley' of 'ruining our national game.'"
Corbyn replied to the statement unfazed on his Twitter account, as he simply said thanks for quoting him, and Onwurah used the opportunity to point out to the Labour leader that Newcastle's statement claimed the businessman had not taken a penny out of Newcastle United in interest, salary or dividend.
Onwurah explained that the categorical denial that Ashley had taken money out of the club, must mean that the money from the sale of the Strawberry Place site was staying in the club.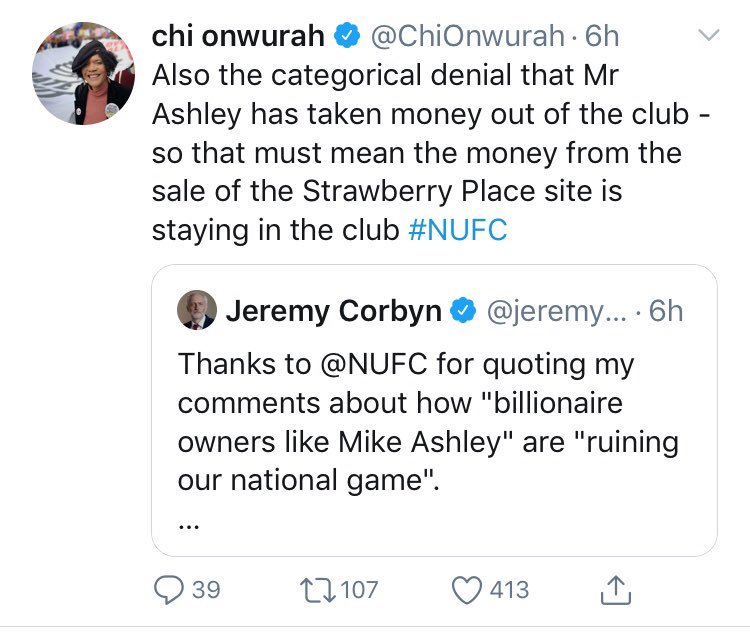 "Also the categorical denial that Mr Ashley has taken money out of the club – so that must mean the money from the sale of the Strawberry Place site is staying in the club #NUFC," wrote Onwurah on her verified Twitter account.
OPINION
The Chronicle previously reported in February that the accounts for Ashley's personal investment group revealed that the Magpies owner sold Strawberry Place, which is a plot of land near St James Park, for £9million, and that implies the money isn't set to be reinvested in the football club. However, Onwurah believes that contradicts Newcastle's official statement about money having not left the club and found it's way into Ashley's pocket, yet it does seem like it hasn't directly come out of the club, as the sale is only shown in the accounts of his personal investment group, so it's a bit loophole and debatable subject. Yet when you consider the sale of Strawberry Park will potentially end up effecting the club, as the £120million development plan for the area could potentially stop any future expansion of St James Park (Source: Chronicle), then you could argue that down-the-line it will stop the Magpies increasing their revenue through a stadium expansion. Also while Onwurah's tweet to Corbyn may not lead to direct action, it does help draw attention to the perceived issues surrounding Ashley's ownership of Newcastle as being under a more intense spotlight is only going to force the businessman not to do anything that can be interpreted as him not acting in the club's best interests.