OPINION
Another week, another seven days of Mike Ashley ownership on Tyneside with little in the way of movement towards his potential exit.

The Newcastle United saga is quickly starting to rival Eastenders as England's longest running and most depressing soap opera, and we are surely reaching a point now where most fans are giving up hope of the controversial businessman ever leaving.
There is, of course, talk of Peter Kenyon making a move for the Magpies, with the Chronicle even going as far as to suggest that he is making plans as to how he would shake things up at St. James' Park, but as yet, there is nothing concrete to get supporters excited.
In some respects though, that might not be the worst thing in the world.
According to The Athletic journalist Chris Waugh, being in the dark could actually be cause for hope.
Writing in a Q&A for The Athletic, he said: "There are still interested parties behind the scenes – there always are when it comes to Newcastle United – but I think a takeover is likely to just happen one day if it is to take place, rather than it play out in the media first.
"In that sense I think silence is a positive.
"Does that mean I expect a takeover in the short term? No, I can't say that I'm afraid, but things change swiftly when it comes to matters such as this so it could just happen over-night one day."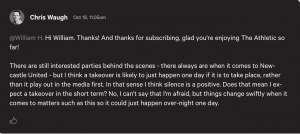 Now, evidently, he is still of the opinion that Kenyon is unlikely to complete a deal, at least any time soon, but it is also clear that Waugh expects a takeover, if and when it does happen, to come out of nowhere.
While it might feel counterintuitive, that's more than enough reason for supporters to keep their hopes up.
It demands blind faith and unerring optimism, but the prospect of waking up one day and hearing that Ashley has finally packed up his things and headed off into the sunset is surely enough motivation to keep even the most cynical of fans hoping for just a little while longer.