Newcastle United supporter club, the Magpie Group has issued a statement, claiming they believe it is "blatantly obvious" that owner Mike Ashley has put his business interests ahead of the club.
The fan group compared Newcastle to other Premier League clubs such as West Ham United and Tottenham, claiming that their finances prove the downfall of their own club during the same timeframe.
The Magpie Group shared the statement on their official Twitter account on Friday morning, where they admitted that they believe their club is being suffocated by the regiment of Ashley, and that the club is dysfunctional and must be sold as soon as possible.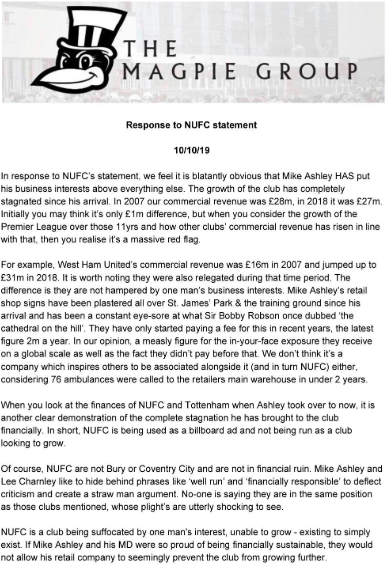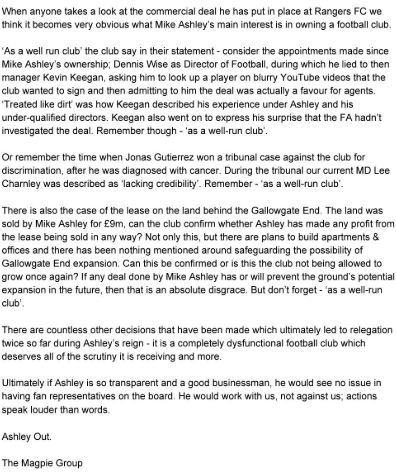 OPINION
There is no hiding away from the frustration that Ashley has caused all Newcastle fans during his reign at St James' Park. The controversial owner has never had a large number of fans behind him due to the number of questionable decisions he has made. Making Sports Direct a part of the club and including them in the stadium rights was one of the worst decisions he has probably ever made, and one of the major reasons people believe that he views the club as a business. It is hard to disagree with that statement, especially given the fact that they have backed it up with facts surrounding other club's finances such as West Ham, who have been relegated and not won silverware like Newcastle but have still managed to spend considerably more. The biggest factor behind this is the Magpies' activity in the transfer window and the fact that Ashley has only just broken the club's record fee twice this year after 14 years. The supporters are clearly getting more and more frustrated, and the time is coming for Ashley to do something about it.