Former Premier League players Chris Sutton and Robbie Savage have unusually joined forces to come to the defence of Newcastle United midfielder Isaac Hayden.
The 24-year-old was given his marching orders in the Magpies' 5-0 defeat to Leicester City last weekend for a forceful challenge on Dennis Praet. Sutton and Savage, though, feel that the red card he received was harsh.
"I'm thinking, as a midfield player, 'I've got to protect myself'," Savage explained on BT Sport, as per Savage's personal Twitter account. "As I go in I've left that foot on the floor, I'm off balance a little bit, but I'm in total control of my body. As I go in, I think he [Praet] is going to go in with the same force as me."
Sutton then chimed in: "I think that's key. That's in his mind-set, that Praet is going to commit, as well." Savage then continued: "As I'm kicking the ball, I have to go up. So as I go up, the distance between my leg and Chris' shin is so small, I'm going to contact his shin. So please tell me, as a midfield player… where can I go?"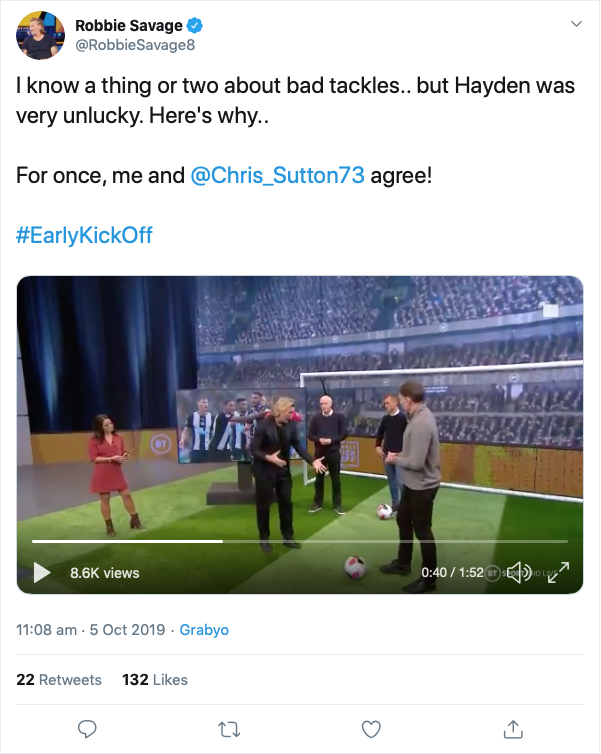 OPINION
It's certainly unusual for Sutton and Savage to agree on anything. They are usually seen or heard bickering on BT Sport and BBC Radio 5 Live, seemingly taking opposite views purely in an attempt to confound one another. However, they have clearly come together here because they both feel that Hayden was unlucky to be issued with a straight red card against the Foxes. Obviously this is a game of opinions and some people will feel that it was a definite sending off. But a lot of what Sutton and, particularly, Savage says makes sense. Now there's a statement that hasn't been written down very often. Hayden was already committed to his challenge, a ball-winning challenge, by the way. There's only so much that he's responsible for after winning the ball, with most of it being simple physics. He was always going to come into contact with Praet after winning the ball, but contact in and of itself isn't a crime in football – or at least it didn't used to be. In 2019 this probably is a red card by the letter of the law, which is the important thing really, but then perhaps the laws need looking at.