Carlisle United manager Steven Pressley has hit back at reports that Newcastle United are displeased with how young striker Elias Sorensen's loan spell at Brunton Park is going.
The 20-year-old has made just five competitive appearances for the League Two side, none of them starts, prompting a report from The Chronicle last month that the Magpies are monitoring him.
Pressley has now responded: "They certainly can't be unhappy with how we're treating him, because we're treating him exceptionally well," he told BBC Cumbria Sport.
"In terms of the game time, of course they'll be disappointed. Of course they want him to be playing, but they're really happy with how he's being treated, the additional work he's doing. If he doesn't play the minutes they want him to play they still get back, in my opinion, a more formed player."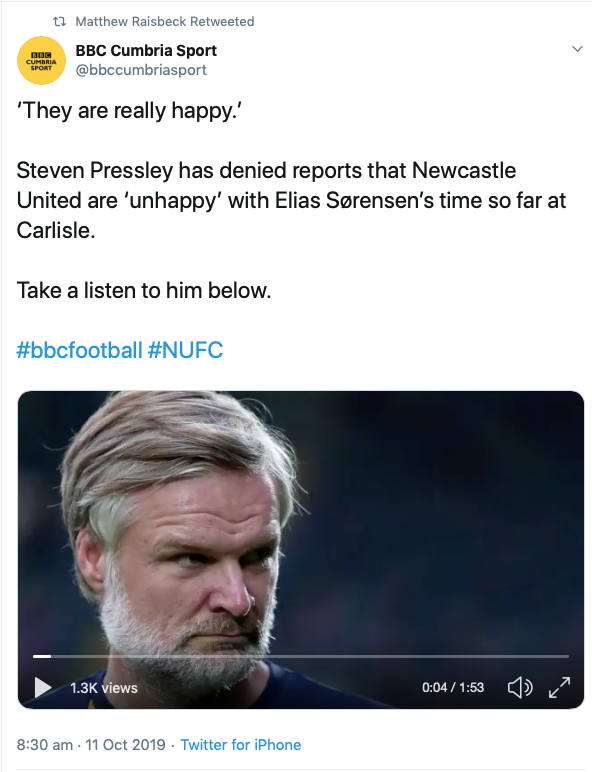 OPINION
This is a nice, reasoned assessment of the situation from Pressley. He is adamant that his club are treating Sorensen properly and, indeed, he believes Newcastle think the same thing. However, he admits that the Magpies are obviously disappointed that the young Dane isn't getting more game time. But that's natural when any youngster is out on loan and isn't playing regularly. The parent club are always going to be disappointed. But the loan team, in this case Carlisle, have their own agenda and need to worry about themselves. Pressley is trying to win games with his side and so he can't be worrying too much about how Newcastle feel about Sorensen's lack of game time. Still, he seems to be pleased with how Sorensen is progressing, and he's backed him to improve and become a more well-formed player having been at Carlisle. Whether that does in fact become the case remains to be seen, but all Sorensen can do is work hard and wait patiently for his chance.