Carlisle United manager Steven Pressley has raved over the performance of Newcastle United loan star Elias Sorensen on Tuesday.
The 20-year-old played all 90 minutes as the Cumbrians defeated Blackpool 2-1 in their Football League Trophy clash at Brunton Park, and Pressley was very impressed with him.
"If you look at young Elias Sorensen tonight – in the first half he worked exceptionally hard and perhaps didn't get his reward, but he kept doing it and he kept doing it and I thought he did exceptional second half," he told the club's official Twitter account.
"I'm really pleased the way he's coming round and he's progressing. I thought he gave a really good performance tonight. He showed great bravery. It's amazing with football, the harder you work the better you perform – that's the bottom line."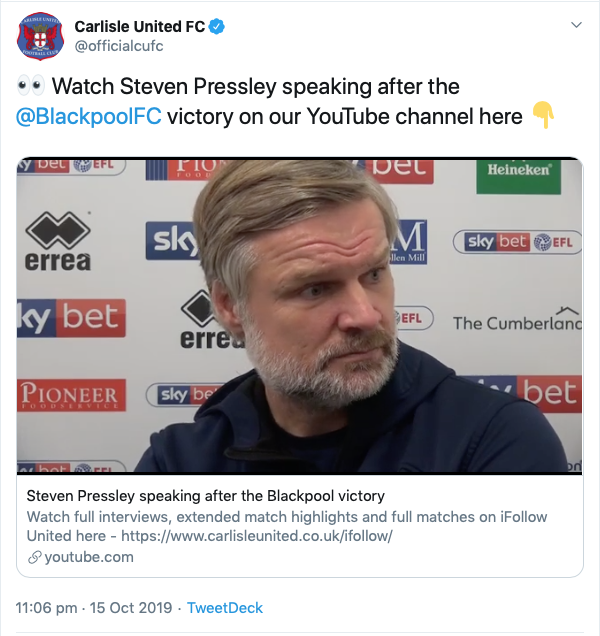 OPINION
This was more like it from Sorensen. He's struggled a bit with game time so far this season, and Pressley has had to come out and refute suggestions that Newcastle aren't happy with the player's situation. However, he was back in from the start on Tuesday and he performed really well. Yes, he didn't score and that's something he'd be disappointed with, but he worked extremely hard and is clearly making progress in terms of his all-round play. It sounds from what Pressley's said that Carlisle have really got into the youngster and improved his work ethic. They've got him doing a lot better in his work off the ball, which will be terrific news for those of a Newcastle perspective. Obviously they want him playing regularly and scoring goals, but if he comes back from this loan spell a better player then that's all they can really hope for.