OPINION
It's hard to know what to make of Newcastle United's start to the season. 
Predominantly dreadful, occasionally sublime – as they were last weekend against Manchester United – this is a side that fluctuate between the inspiring and the infuriating with wild abandon. From what we've seen so far, the only certainty is uncertainty.
Whatever is to come, it promises to be difficult, and that is why the Magpies will need all the help and resources they can get.
And that's why it is so promising to hear that Florian Lejeune could return as early as next weekend against Chelsea.
The Frenchman has been sidelined for some time with a knee injury, but according to a report in the Chronicle, is on the verge of a comeback.
While the piece does state that Steve Bruce is keen to exercise caution with the 28-year-old, it also claims that he is getting sharper and closer to being ready all the time.
And that might not be great news for skipper Jamaal Lascelles.
The Newcastle captain has already come in for criticism this season, with Darren Bent referring to him as "lazy" and suggesting that he "hasn't been great" in an interview with Football Insider.
Moreover, a quick look at the stats tells us that Lejeune, prior to his injury last season., was averaging more tackles, the same amount of interceptions, and a higher match rating, as per Whoscored, than Lascelles is this term.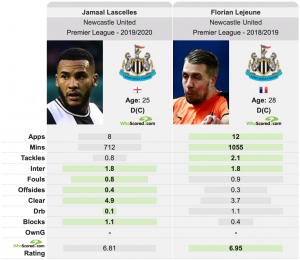 Dropping a captain is never an easy decision, and it may be one that Bruce avoids entirely, but the added competition Lejeune's return will bring could have Lascelles sweating.