BT Sport host Jake Humphrey has taken a swipe at Michael Owen for his spell at Newcastle United.
Owen's book, released last month, caused quite a stir among Newcastle supporters and Tyneside legend Alan Shearer after the ex-England and Liverpool striker admitted that he never really wanted to play for the Magpies.
Humphrey took to his personal Twitter account on Thursday to post a video of himself messing about at the BT Sport studio to which Owen responded: "Some of us are working while you're p***ing around."
Humphrey took that as an opportunity to bring up Owen's spell at St James' Park.
"Like you at Newcastle," the broadcaster replied.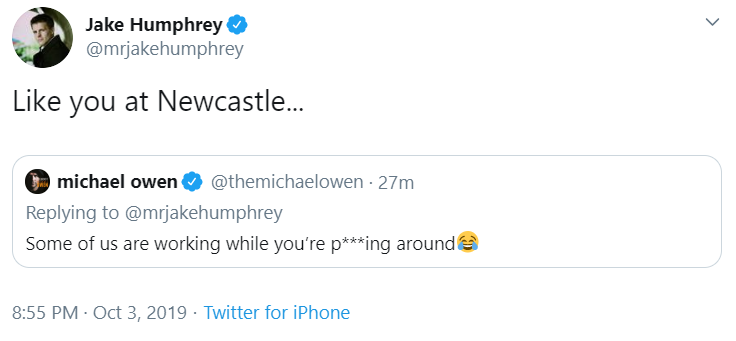 OPINION
Newcastle fans are bound to love this because Owen really did not speak that nicely about the North-East club last month when his book was released and that led to a Twitter row between him and Shearer. Newcastle fans will always stand by Shearer and Shearer will always stand by Newcastle, so it was daft of Owen to think he could take on one without having to take on the other. Owen's spell at Newcastle was a disaster. He barely played due to injury and thankfully his tag of being the club's most expensive player was removed this year when Rafa Benitez signed Miguel Almiron from Atlanta United for around £20million. Unfortunately Almiron is yet to live up to his price-tag but Joelinton, who became the club's new record signing in the summer, has shown some signs that he can be worth his weight in gold. It's still early days in the season and a lot can change between now and May but hopefully, it leads to the Magpies retaining their Premier League status.