OPINION
There's something sickeningly ironic about Mike Ashley's transfer dealings.
The controversial Newcastle United owner has built a reputation for being one of the stingiest chairmen in the English game, and yet sometimes, once in a blue moon, he seems to have a rush of blood to the head and go unusually big on one statement signing.
More often than not, however, when these rarities occur, they don't quite work out for the Toon Army.
Miguel Almiron, the hotly-tipped record signing from last January, is still yet to score in a black and white shirt, and Joelinton, the man who took his title as the Magpies' most expensive acquisition, could be in danger of being just as much of a damp squib.
And that's certainly the opinion of respected reporter George Caulkin, who has expressed his confusion at the decision to spend £40 million on the Brazilian.
Writing in a Q&A for The Athletic, he said: "It baffles me, it baffled Rafa, it baffles a lot of people. £40m in a one-horse race? And also their absolute determination to do it, including from Ashley.
"Fingers crosses, he comes good and there have been signs that he's definitely got something, but he isn't a No9 in the Rondon sense of the position and he doesn't look like an out and out goalscorer.
"I think they've looked at him and thought they'll turn a profit, but that's a big gamble."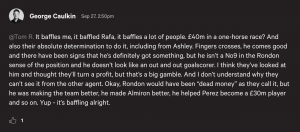 At the moment, you can't help feeling that Caulkin's bemusement might be justified.
Joelinton is a willing worker, and you can't fault him for the effort he has put in a largely thankless role leading the line alone for the Toon Army so far this season, but he seems to lack the clinical edge that Salomon Rondon did last term.
Thus far, he has averaged 1.9 shots on goal per game, as per Whoscored, whereas Rondon was hitting 2.8 last term.
Obviously, more shots doesn't necessarily lead to more goals, but in this instance, it is very much a case of you can't win the raffle if you don't buy a ticket.
Things could, and hopefully will, turn round for the 22-year-old, but at the moment, he is beginning to look like a very expensive error of judgement from Ashley.