Newcastle United head coach Steve Bruce has confirmed that Magpies striker Joelinton is 'finding it tough' at this moment in time.
The Brazilian arrived on Tyneside from Hoffenheim for a club record fee last summer, but has only scored once since that move. Now, the Toon boss has revealed that the 23-year-old is struggling.
"We've invested a hell of a lot of money in the boy…we'll have to be patient with him and try to protect him, and there's no doubt he's a good player," he said at his post match press conference on Sunday, as per journalist Ciaran Kelly's personal Twitter account.
"At the moment, he's finding it tough but then again, that's what the PL is. It's tough and uncompromising."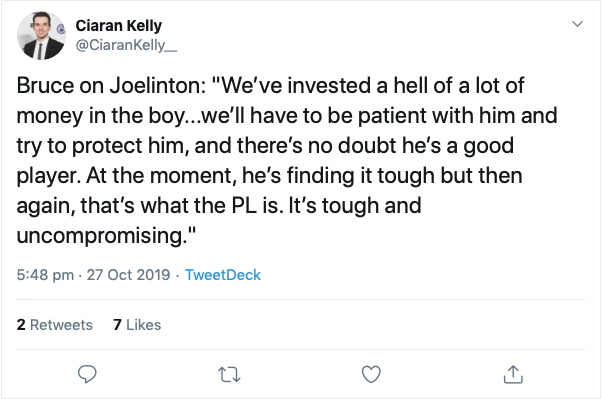 OPINION
It's difficult to assess Joelinton's start to life in English football. He's been lumbered with a Newcastle side largely devoid of creativity and invention, and so it's hard to place the entire blame on him for his lack of production in front of goal. The Magpies simply don't create more than one or two chances per game, so we can't hammer Joelinton for not having scored five or six times at this stage of the season. Bruce has admitted that the Brazilian is finding things tough, but he appears to still be convinced that he can turn things around. The statistics from Sunday's 1-1 draw with Wolverhampton Wanderers, though, don't suggest that that will be the case. As per WhoScored.com, the youngster had just one shot at goal – off target – while he was dispossessed three times and had two unsuccessful touches. Meanwhile, he only completed a woeful 66.7% of his passes. So while he hasn't had much help from his teammates in front of goal, Joelinton can't blame others for his horrendous use of the ball.