OPINION
The international break has not delivered a change of fortunes for Newcastle United forward Miguel Almiron.
The Paraguayan international has yet to be involved in a single goal at St James' Park despite arriving in January, something he will have hoped to have changed in the near future when returning.
Instead, Almiron was sent off in the South American's game against Serbia on Thursday for picking up two yellow cards for simulation – not exactly the best way to end a goal drought.
Many Newcastle fans took to Twitter to tear apart the 25-year-old for his display for his country, with the majority calling for him to stop simulation because it is simply embarrassing.
It has happened on a couple of occasions this season already in the Premier League where Almiron has been cautioned for diving, and Steve Bruce now needs to come in and teach his forward a lesson after the break.
The Magpies' boss should place Almiron on the bench for the upcoming game against Chelsea, and bring in Christian Atsu, who more than deserves a chance in the front three.
Almiron has made double the amount of starts in the Premier League already this season, but Atsu has still managed to deliver two more assists than his teammate.
When you compare the Newcastle duo via WhoScored in this campaign, it is clear to see that the African winger would be much more suited to a role in the final third.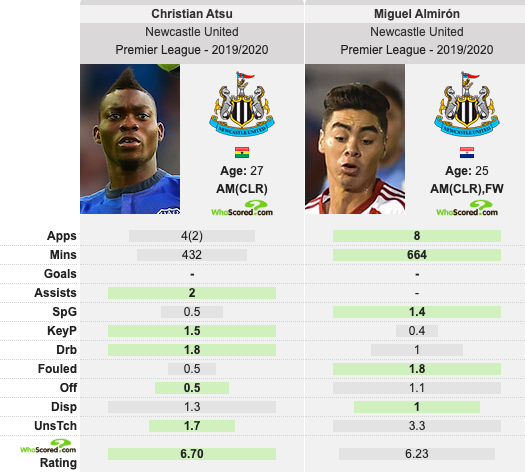 Almiron plays much more centrally compared to Atsu so it is quite obvious that he is bound to have more shots on goal purely down to the fact he plays in more dangerous areas.
Atsu comes out on top quite convincingly in other departments, completing nearly double the number of dribbles per game, as well as nearly three times the amounts of key passes – stats which could help fellow forward Joelinton become much better in front of goal.
Bruce must teach Almiron a lesson for his poor international outing and his form at the beginning of the campaign, with Atsu more than capable of replacing him.