OPINION
It's safe to say Newcastle United midfielder Jonjo Shelvey hasn't had a great start to the season.
The 27-year-old midfielder has made four Premier League appearances so far this campaign and only has a consolation goal in the 3-1 loss to Norwich City to show for his efforts.
In his outings, Shelvey has, on average. controlled the ball poorly 1.3 times per match, failed to register an assist despite making 1.8 key passes and has only maintained a pass completion rate of 78.2%. (Source: WhoScored)
While the 27-year-old does like to make an ambitious pass or two to help the Magpies launch quick attacks, given his efforts haven't led to an assist so far, it's hard to overlook that his pass completion rate is a little on the low side for a Premier League player.
It's also hard to overlook that his struggles continued, and possibly got worse, in the 0-0 draw with Brighton.
Shelvey may have touched the ball more than any other Newcastle player, bar Paul Dummett and Fabian Schar, despite coming off in the 72nd minute ,but he didn't really do much with it or put himself about the pitch. (Source: WhoScored)
The Magpies midfielder's heatmap from the clash with Brighton shows how often he frequented the middle of the pitch without dropping back to help his side's defence and also highlighted how little time he spent in the opponent's half.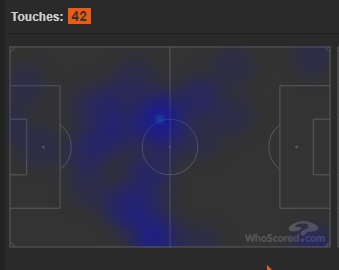 The Telegraph while providing an update on all of the Magpies' injuries reported that there were serious questions marks about Shelvey's mobility as he was playing with a long-standing thigh injury.
Given that some Newcastle fans ripped into the midfielder on social media as he didn't seem to be getting stuck in and appeared to be drifting about, surely the fact he is playing with a known injury problem explains his struggles this season.
Shelvey missed out on making Newcastle's squad multiple times under Rafa Benitez last season and even vented his frustration over his injury to the Chronicle, yet it seems it is still in the background of his performances based on The Telegraph's report.
With that in mind, surely the 27-year-old's struggles this season are not a mystery to Steve Bruce as he must know that the midfielder's thigh injury is likely affecting his game.
The Magpies boss is clearly taking a chance by playing Shelvey and it seems like a pointless one as he clearly is unable to be the player his ability suggests he can be currently.
It'll be interesting to see how much game time Shelvey plays when the likes of Sean Longstaff are available again, as perhaps Shelvey is forcing himself through the pain barrier out of necessity.