Sky Sports journalist Pete Graves pointed out that the swear word in Newcastle United fans' chant about Mike Ashley was likely the reason the crowd was muted during the Magpies' 5-0 loss to Leicester City.
Graves was asked by a fan what the reason was for Newcastle fans being muted when singing anti-Ashley songs during Sunday's clash with the Foxes, and he responded by explaining it wasn't because Sky Sports love the Magpies owner.
The journalist expressed this view by turning the question around on the fan who asked, by pointing out there were two options why it was muted, it was either because Sky love Ashley or because there was an inappropriate word and the broadcaster knew there were kids watching the game.
"Let me ask the question back to you (you aren't alone)," wrote Graves on his verified Twitter account.
"And give you 2 options. Option A: Because Sky Loves Mike Ashley and doesn't want to ruin his Sunday afternoon? OR Option B: Because it says the word "*******" and there's a zillion kids watching pre watershed? x"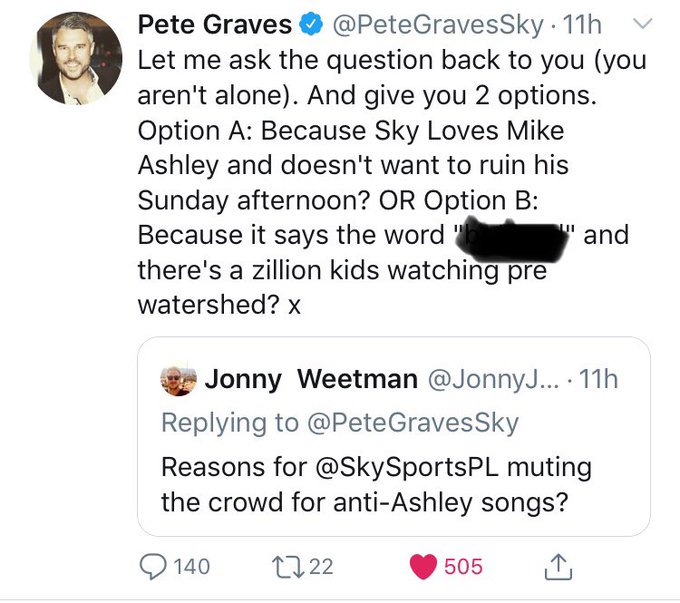 OPINION
Newcastle fans sung their hearts out on Sunday and considering their side lost 5-0 and gave them nothing to cheer about, Magpies supporters were impressive, to say the least. Newcastle fans took the opportunity to chant what frustrated them about their club, i.e Ashley, and that was one of the best ways of letting everyone know who they blame for their club currently sitting in the relegation zone. While Steve Bruce and the team will rightly get a lot of flack for Sunday's terrible display, the problem lies at the top with Newcastle and supporters seem resigned to the fact that until the club's owner changes, life isn't going to get better at St James Park. However, while it's easy to suggest broadcasters like Sky don't understand the club's plight and fans' unhappiness with Ashley, they clearly didn't mute the chants due to them being anti-Ashley. Anytime a crowd can loudly be heard chanting inappropriate things that can't go out on television pre-watershed, they will get muted. So with that in mind, if Newcastle fans really want to be heard when Sky Sports next air one of the club's games, maybe they need to invent a new Ashley chant that is suitable for broadcast.