beIN SPORTS presenter Richard Keys has claimed that he told Newcastle United fans all along that a takeover of the club wouldn't happen this summer.
An article appeared on The Chronicle on Wednesday detailing what really happened earlier this year as the Dubai-based Bin Zayed Group seemed to be closing in on a purchase of the Magpies.
Keys has now done his traditional smug-man bit: "Sorry you had such a bad summer Neil [Mitchell, author of Chronicle piece]," he wrote on his personal Twitter account.
"Follow me for news of what's happening at Newcastle. I told you all right at the start of this process that it wouldn't happen."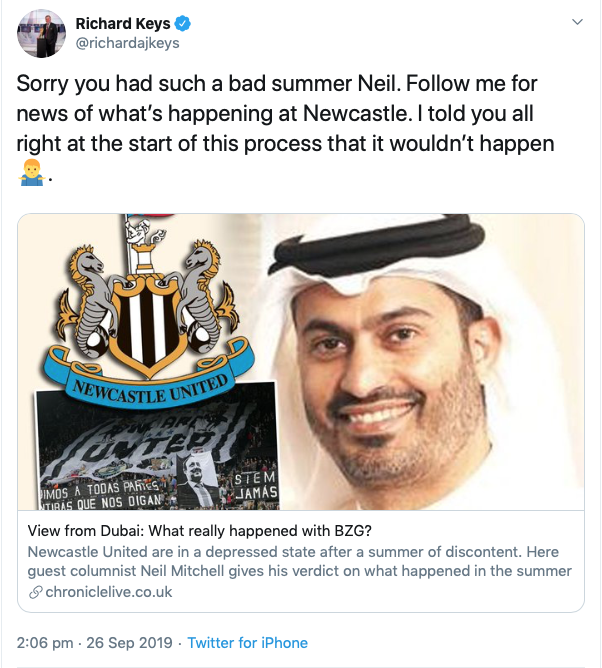 OPINION
Keys really is insufferable, isn't he? Is there any need for him to come out and say 'I told you so' – if he even did. Besides, knowing that this BZG 'takeover' wouldn't happen doesn't exactly make you a clairvoyant. There were plenty of Newcastle supporters who were saying the same thing from the word go. But, you know what, we should all just start following Keys for his expert views and analysis on what's happening at St James' Park. Clearly he is the man in the know on all things Newcastle… It's just a ridiculous thing to say, and he needs to have a long look in the mirror and realises he's actually a 62-year-old man who could probably refrain from this sort of 'look at me' behaviour. The Magpies faithful are already depressed enough about Mike Ashley still being in charge of their club, they don't need a disgraced football presenter throwing his two cents in when, actually, no one is interested in what he has to say about Newcastle.