Michael Owen has hit back at criticism over his latest comments on Newcastle United.
The former Ballon d'Or winner has riled Toon supporters with excerpts from his forthcoming book, including comments on how he perceives the fanbase as delusional and how he never really wanted to sign in the first place, as reported by the Chronicle.
But Owen has hit back at one fan's claims that he was "slagging off" the city and the football club.
Writing on his personal Twitter account, he said: "I actually praise the people and the city.
"I bought a house and lived there for 4 years despite the myths that I flew home every two minutes.
"You've obviously not read the book and don't understand the context in which some of my quotes were used."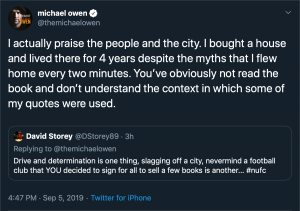 OPINION
Owen swears that his remarks have been taken out of context, but it's kind of hard to understand how so many quotes from his own book could apparently misrepresent his personal views. If he doesn't believe in what is written between the two covers that have his face plastered all over them, then why did he allow it to be released, and why didn't anybody from his entourage check which parts were being released in serialised form before they hit the papers? Frankly, at this stage, you would have more respect for Owen if he just held his hands up and admitted that these are his beliefs and that he was sticking to them. Instead, he is flip-flopping and floundering, and is only making himself look worse in the process. If this is his masterplan for selling copies of his book then it looks like it might have fallen flat on its face, especially on Tyneside.