Newcastle United captain Jamaal Lascelles has saluted Magpies left wing back Jetro Willems for his performance against Liverpool on Saturday.
The Dutchman scored a beautiful solo goal to put the Magpies ahead at Anfield, before Jurgen Klopp's table-toppers eased away to a 3-1 victory.
Lascelles was impressed by his teammate's strike: "Always up for a challenge against top opposition," he wrote on his personal Twitter account on Sunday.
"Great strike from @JetroWillems_15 to give ourselves a chance but it wasn't to be….Massive game next week."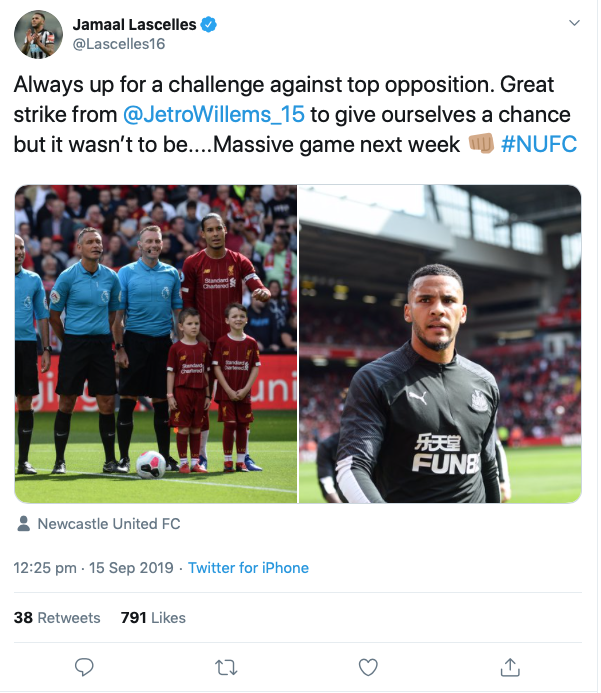 OPINION
Lascelles gets it bang on the money, here. Willems' strike was out of the top drawer. It really was a terrific goal, and it took Adrian in the Liverpool goal completely by surprise. To be fair, the Spaniard never had a chance from the moment the shot left the Dutchman's right boot. This is a left-footed player as well, by the way. Having said that, the quality of the finish has kind of led some people to forget how well Willems did to create the space for the shot in the first place. It was a lovely bit of skill from him to engineer the opening to fire past the Reds 'keeper. He was up against arguably the finest right back in the Premier League, but he left Trent Alexander-Arnold completely bamboozled. You have to say, though, that Lascelles's words hint at a bit of an inferiority complex, here. Willems' goal 'gave them a chance'. So does he think Newcastle didn't have a shout at getting anything when it was 0-0? Perhaps that's looking too closely at things, but there you go.