Newcastle United's club record signing Joelinton is insistent that he wants to play up front alongside Andy Carroll, according to Sky Sports reporter Keith Downie.
The Brazilian has struggled with a lack of service since moving to the club from German side Hoffenheim this summer, and is clearly ready for Carroll to get fit and join him up front.
"Joelinton got quite emotional today talking about his 'rags to riches' story from poor streets of Brazil all the way to the Premier League," Downie wrote on his personal Twitter account on Thursday.
'"Joe" insists he wants to play alongside Andy Carroll, smiling at the prospect of defenders being scared of their twin physical threat."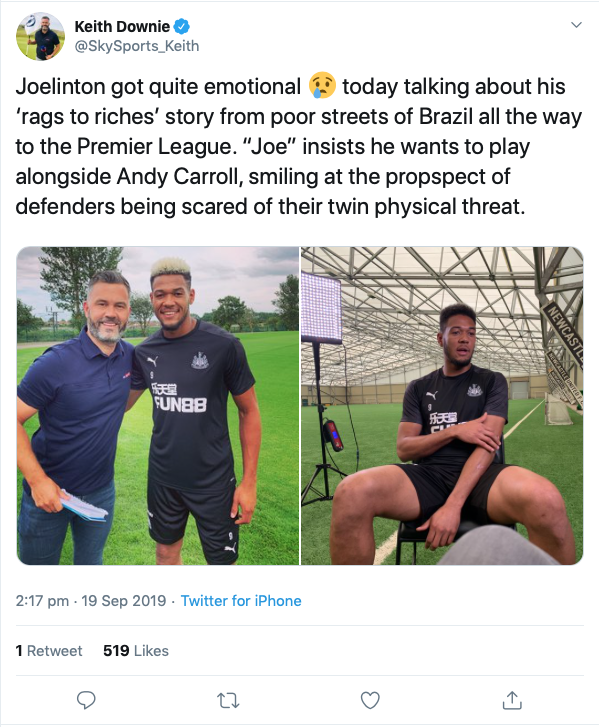 OPINION
Joelinton and Carroll up front together would certainly represent a unique physical problem for opposition defences, even if the duo might suffer from a lack of mobility. You would certainly need mobile, creative types around them, like Miguel Almiron and Christian Atsu, if the partnership was to be successful. They're both big boys, though, and could flourish within a more direct attacking system. The big thing now is for Carroll to get match fit. The 30-year-old has been out of action since rejoining his boyhood club this summer. However, it's thought that he is now edging ever-closer to being ready to go for Steve Bruce's side. Whether the Magpies boss would be brave enough to pair the duo up front together remains to be seen. But, given how starved of goals his team have been thus far this campaign, the former Sheffield Wednesday chief might feel it's worth the risk playing the two behemoths together.