OPINION
Joelinton has had a mixed start to life at Newcastle United since his club-record switch to St James' Park in the summer transfer window.
The early signs were good when he impressed Graeme Souness in the opening day defeat against Arsenal and while he missed an absolute sitter against Norwich, he managed to bag his first Premier League goal in the shock 1-0 win at Tottenham.
Joelinton was frustrating to watch against Liverpool on Saturday.
Steve Bruce's side let slip of a one-goal lead to lose 3-1 at Anfield and while Joelinton did show off his impressive aerial prowess in the defeat on Merseyside, his overall forward play was nowhere near as good as it should have been.
Ex-Newcastle midfielder Jermaine Jenas was especially frustrated with the Brazilian striker, claiming that he needed to be more brazen in the penalty area and get shots off at goal rather than looking for a pass.
There was one moment in the second half when Joelinton could have gave Adrian some work to do, but instead he passed the ball to on-rushing right-back Emil Krafth, who wasted a couple of good chances.
Jenas believes that the number nine shirt at Newcastle carries something about it that means strikers should not be scared to let fly at goal.
"Take a touch and just hit it," said Jenas on BT Sport 1 on Saturday [02:45pm]. "You're a number nine for Newcastle. Hit it."
Jenas added: "Create a yard, shift the ball. Do something a little bit more."
According to stats by WhoScored, Joelinton attempted just one shot at goal against Liverpool, and that was way off target.
WhoScored also shows that Joelinton's touches in the match were scattered all over the pitch.
Joelinton had just one touch inside the Liverpool penalty area and only had three just outside of it.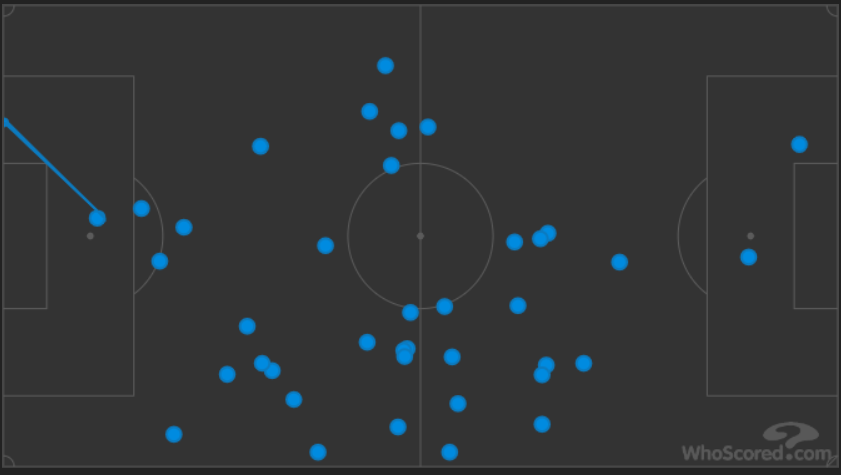 A lot of that can come from the lack of service but it's not like Joelinton wasn't in the game.
He was eight aerial duels, a figure that was only bettered by Liverpool centre-back Joel Matip out of the players on both sides on Saturday, with him winning 12.
Joelinton had one period in the first half when he failed to have possession of the ball for 10 minutes.
It shows in his touches that the Brazilian had to force himself to get into the game by dropping deeper, but that led to him having fewer touches in places where it really matters for a number nine.
Krafth and Jonjo Shelvey [both two] had more shots at goal than Joelinton against Liverpool while even defensive midfielder Isaac Hayden managed to match the Brazilian's one.
We need to see a lot more from the club's record-signing in the future.