Don Hutchinson has claimed that Newcastle United are dying a slow death after their 5-0 defeat against Leicester City.
The BBC pundit handed Steve Bruce some advice by stating he has to take his only chance to succeed in charge of the Magpies and that his style is not doing him any favours after the defeat at the King Power Stadium.
Hutchinson shared his thoughts on his personal Twitter account, advising Bruce to adapt his system and go more attacking in the future during his tenure at St James' Park.
The former Liverpool player turned pundit admitted that if Bruce is going to fail then he might as well do it trying everything he can to succeed.
"My thoughts on Steve Bruce while he has the Newcastle job," he wrote.
"It's your one and only chance man. Have a go by playing balls out attacking football. Newcastle are dying a slow death at the mo."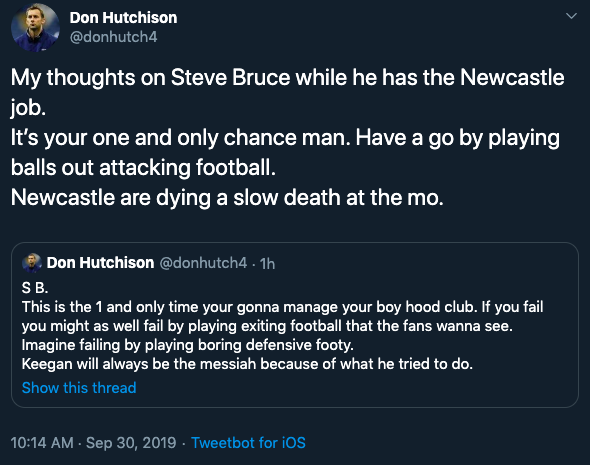 OPINION
Dying a slow death might be a bit of an overstatement but Bruce certainly needs to change many things going forward with Newcastle. The Magpies were embarrassing against Leicester and were bypassed easily at times as they looked hopeless. Bruce's style saw them sit deep and invite pressure on after going down to 10-men, and Newcastle simply got blown away. Even in games before this which the Magpies should have taken by the scruff of the neck, they sat back, such as the game against Brighton where they only had 29% possession. Bruce will know that something needs to change after the embarrassing defeat on Sunday, but the fact is that a defeat like that has been on the horizon for some time and now is the time for him to use this as the reason to change it around and attack games from the beginning rather than waiting to counter-attack.