The Daily Telegraph's north east football correspondent Luke Edwards has questioned Newcastle United winger Allan Saint-Maximin's ability to stay fit.
The Frenchman's short time on Tyneside has been plagued by injury ever since his summer switch from Ligue 1 side OGC Nice. Edwards is understandably concerned that he could be injury-prone.
"Allan Saint Maximin has got a touch of the Hatem Ben Arfa about him hasn't he?," he wrote on his personal Twitter account on Sunday.
"Gives defenders the fear, quick feet, explosive burst from a standing start, constantly willing to attack marker. But can he stay fit? He's probably the only positive from that turgid affair yesterday."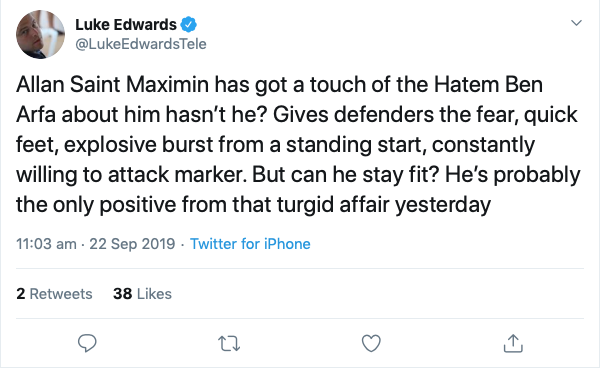 OPINION
It's early days in Saint-Maximin's Newcastle career, and so it's concerning that this question is already being asked. The fact that he picked up another knock against Brighton & Hove Albion on Saturday, having previously got injured on his comeback from injury against Tottenham Hotspur, is a big worry. Is he injury prone? It's too early to say, but this is a rather inauspicious start to his time at St James' Park. Head coach Steve Bruce told the Shields Gazette after Saturday's game that he didn't believe this latest setback to be a serious one for the 22-year-old. Let's hope that that's the case and that he returns to action against Leicester City next weekend. As for the Ben Arfa comparison, you can see what Edwards is getting at. Both men are tricky French wingers who scare the opposition to death when they're on their game. You don't always know what they're going to do, and they probably don't either, but they both possess tremendous natural ability.