The Daily Telegraph journalist Luke Edwards has explained why Newcastle United midfielder Isaac Hayden appeared to mouth 'it's not working' to Magpies boss Steve Bruce on Saturday.
Bruce's team were outsmarted tactically pretty much from start to finish against the Seagulls in their goalless draw at St James' Park. Now Edwards has moved to clarify an incident from the game.
"Interesting to hear that [Christian] Atsu and [Miguel] Almiron were initially supposed to be playing alongside Joelinton against Brighton," he wrote on his personal Twitter account on Monday.
"Hayden's "it's not working" comment was in reference to the front three not pressing and winning the ball. Led to change, with them dropping deeper…"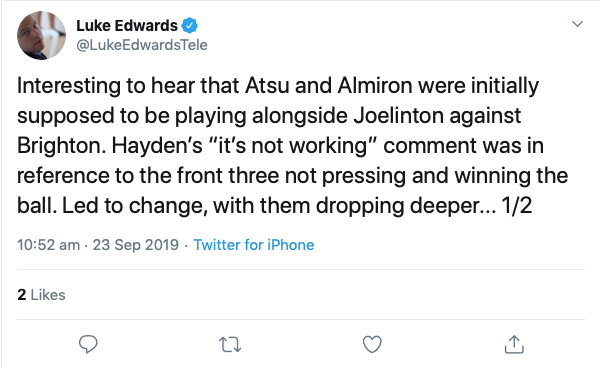 OPINION
This is an interesting little tid-bit from Edwards, isn't it? So far this season Messrs Atsu and Almiron have very much operated out wide as orthodox wingers, with Joelinton through the middle as the target man for them to aim at. However, that's not exactly worked brilliantly in terms of creating an abundance of chances, has it? So Bruce obviously tried to change things and move the two wingers further forward to play alongside Joelinton in a front three. However, with the trio not pressing Brighton as well as they could have, it led to disaster for the Magpies in the opening stages of the game. The home side started woefully at St James' Park and couldn't seem to work out what Graham Potter was doing with his side. Hayden then verbalised his thoughts to Bruce and we saw a bit of a change with the trio dropping deeper and wing back Jetro Willems moving across into a midfield role. That saw a slight improvement, but Newcastle were still second best on Saturday.