Newcastle United striker Andy Carroll will undergo a Saturday morning fitness check ahead of his team's clash with Brighton & Hove Albion, according to journalist Mark Douglas.
The Chronicle reporter revealed the news on his personal Twitter account on Saturday, claiming that the Magpies' medical staff will take a look at him prior to the evening game.
Douglas wrote: "Oh & to the small but adamant number of fans who think he's on the bench 'to sell tickets': they'll check his fitness again this morning.
"Won't start; if things going to plan may not feature. Playing it safe with the striker if anything (and they should given his fitness issues)."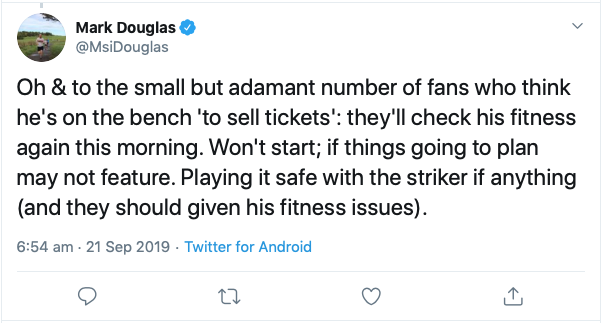 OPINION
Despite Douglas outlining a fitness check for Carroll, this is a positive update on the striker. They'd always need to check on him before this game, because of his injury-prone nature and the fact that he hasn't featured for the team yet this season. More pertinent, though, is Douglas' assertion that head coach Steve Bruce is playing it safe with the England international. That's the right thing to do, despite his team's offensive struggles so far this campaign. It's unreasonable to place all the responsibility for solving that issue on Carroll's shoulders. He is still returning from his latest injury setback, after all. While there may be a temptation to start the giant Geordie frontman, it's one that Bruce must resist. We saw what happened with winger Allan Saint-Maximin when he was rushed back too early this term. The boss must be careful with Carroll, which will likely see him only introduced if the Magpies need a goal towards the end of the game.