OPINION
The sooner Mike Ashley leaves Newcastle United, the better for their fans.
The controversial owner continues to ruffle the feathers of the Magpies' faithful who have never supported the businessman and his reign in the North East.
Many would have started to believe that Ashley will never leave the club after a recent report from the Chronicle revealed that the Bin Zayed Group had failed in their takeover bid as the current owner changed his mind during negotiations.
The Daily Mail reported on Thursday that Peter Kenyon had launched a £300million bid in an effort to take control of Newcastle United, with the aim to establish them as one of the top 10 clubs in the Premier League.
The newspaper claimed on their website that a Floria-based consortium, GACP Sports, have put up £125million to help Kenyon complete a takeover, with their plans for the club already being submitted.
GACP already have part-control of French club, Bordeaux, and they haven't been keeping their fans happy during the summer and the transfer window.
Football commentator, David Crossan claimed on his personal Twitter account that the fans of the Ligue 1 side are unhappy with their transfer policy, as they targeted players that are worth in-and-around £5million.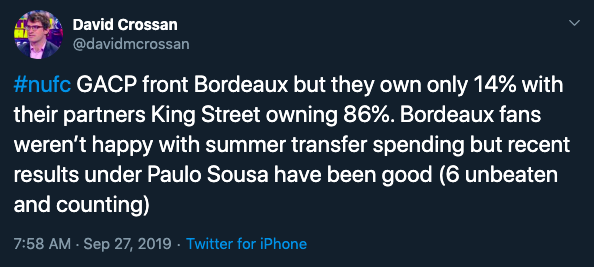 The Sun revealed on Friday that Kenyon has reportedly pledged a £75million budget in his transfer plans for Newcastle, with GACP's summer activity at Bordeaux surely undermining.
GACP clearly had an influence on Bordeaux's transfer dealings, even if they only own 14%, and it doesn't sound like they're the type of owners who like to go big on transfers.
The Magpies have broken their transfer record twice in 2019, breaking a record that lasted 14 years since the signing of Michael Owen back in 2005.
That only scratches the surface with the problems financially facing the Magpies and any owner who is to follow Ashley into the club must be prepared to financially back whoever is in charge.
Crossan's claim will surely leave many Newcastle fans concerned with the reported takeover bid including GACP after their activity at Bordeaux undermines Kenyon and his transfer plans.