Former Newcastle United striker Joe Allon has launched a scathing attack on his fellow former Magpies frontman Michael Owen for his comments on the club.
The former England international set the football world alight on Tuesday as excerpts from his new book were released, as relayed by The Chronicle, and Allon has taken exception to his derogatory comments towards the north east giants.
"I find it comical," he told Love Sport Radio. "All Newcastle United supporters knew he didn't want to play for them well before half-way through his four-year contract, and now he says he didn't want to play from the start! It just demeans the club, and the fans especially.
"It's causing a great deal of eyebrow-raising. In other words, up here, its absolutely hypocrisy – utter rubbish. Heart of a pea. Commitment? Nil point. Loyalty? Well, ask Man U and Liverpool about that. Personality of a flip-flop, mercenary and a money-grabber to boot."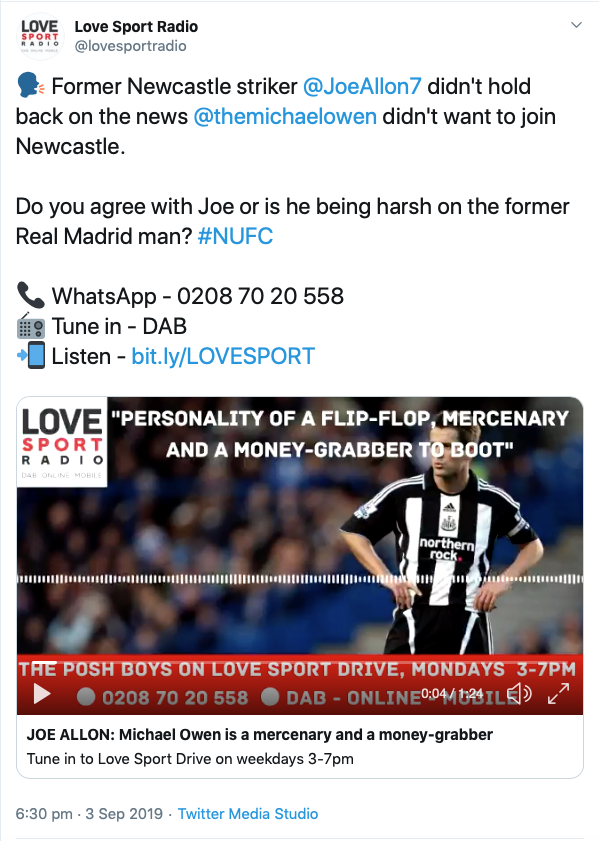 OPINION
Well, Allon clearly isn't very happy with Owen, is he? To be fair, you can't really blame him for being annoyed with the former England star. Allon is a Newcastle fan through and through, as well as being a former player, and you can hear the anger in his voice, here. He clearly views Owen's attitude towards his move to the club and his time in the north east as being hugely disrespectful, and you can't blame him for seeing things that way. Owen certainly hasn't emerged from Tuesday with any credit whatsoever, and he should probably watch his step the next time he visits Tyneside. It was clear throughout Owen's time at St James' Park that he didn't want to be there, as he never once threatened to scale the unbelievable heights he traversed while at Liverpool. He was obviously very upset that the Reds didn't come in for him when he left Real Madrid, but it seems like he's taken all that out on Newcastle. With that said, it's no surprise that Allon is annoyed.