Former Newcastle United manager Sam Allardyce has claimed that he rejected Strictly Come Dancing this year because of the possibility of a return to St James' Park.
The 64-year-old endured an inglorious few months in charge of the Magpies between 2007-08, but it seems he's still keeping an eye out for the chance to right his wrongs in the north east.
"I did, yeah," he told Goals on Sunday when asked if he got the Strictly offer this year. "The thought of Strictly would have been OK, but the temptation of another job meant that, if it came up, I wouldn't have been able to fit it in.
"If I'd done all that training and then said 'I'm sorry, I'm leaving', you know what I mean? Can I do Strictly and Newcastle? I don't think so."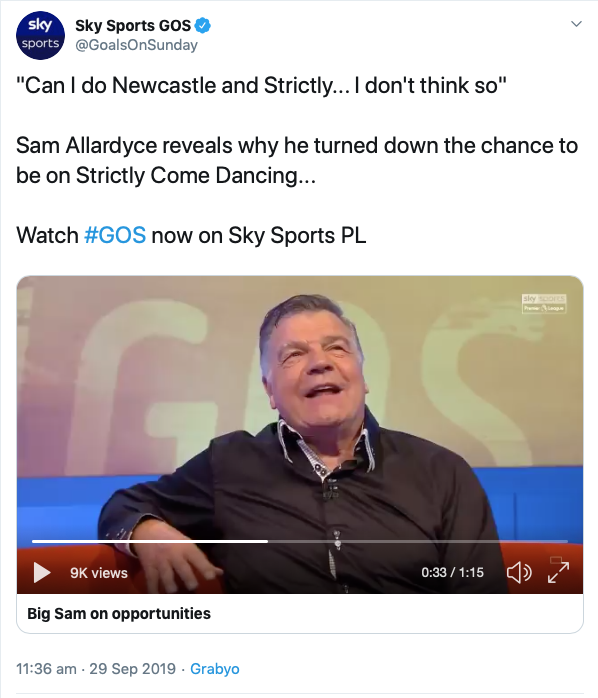 OPINION
Well, well, well, 'Big Sam' is clearly still open to the idea of returning to St James' Park, despite how poorly it went the first time round. It's also telling that Newcastle was the first team he thought of when considering potential job vacancies that could come up over the winter months when Strictly is on the telly. Clearly Allardyce still has managerial ambitions and wants to get back into the thick of things at some point, but he'd certainly represent another unpopular appointment if Steve Bruce were to lose his job with the Magpies. He made an absolute mess of things at Newcastle, and has since gone on to manage their fierce rivals Sunderland – although that didn't preclude Bruce from getting the job this summer. He wouldn't be welcomed back to Tyneside, let's just put it that way. He obviously thinks he might have a shot at some point in the future, though, even if he was joking with his comment here.