Newcastle United attacker Allan Saint-Maximin got in a Twitter spat with an Arsenal fan who claimed they didn't get the hype surrounding him.
The Arsenal fan in question, AFC Gally, tweeted that he didn't envision the 22-year-old making the grade in the Premier League after the Magpies spent £16.5million, as per the Daily Mail, on signing him.
"I'm sorry but I don't see the hype around Saint Maximin at all, he's so average," wrote the Gunners supporter, via his Twitter account.
"Quick and a decent dribbler, that's it. Awful output, not effectively creative and lacks physicality for the Premier League. Won't cut it at all. Feel free to bookmark this tweet."
Saint-Maximin then responded to the Arsenal fan to tell him to be more positive and that led to the Gunners supporter telling the winger he expected a better response.
"Oh that's about love and optimism my boy. You should try it dude, it makes you saying positive things for a positive life," wrote the Newcastle player, via his verified Twitter account.
AFC Gally replied: "That's an awful reply by the way mate, if I thought you were a good footballer I would have said positive things."
This didn't end the spat as Saint-Maximin replied again to cheekily ask for a high-five and the Arsenal fan thought he was implying that he hated the Magpies player.
Saint-Maximin wrote: "U don't get it dude, look, no offense but I don't think you're good with twitter as well, but still I stay positive with you tho! Life is about love, here you go, (enjoy) so gimme some even tho we don't have the same jersey."
Gally replied: "So you're basically saying I hate you? That's not the case, just given my opinion pal. Have a nice day."
However, it seemed the pair then seemed to come to a peaceful end to their conversation with both wishing each other to have a nice life.
"Thank you! Have a nice life bro," wrote Saint-Maximin.
The Arsenal fans responded by saying: "Atleast you are respectful. You too mate, best of luck. Prove me wrong."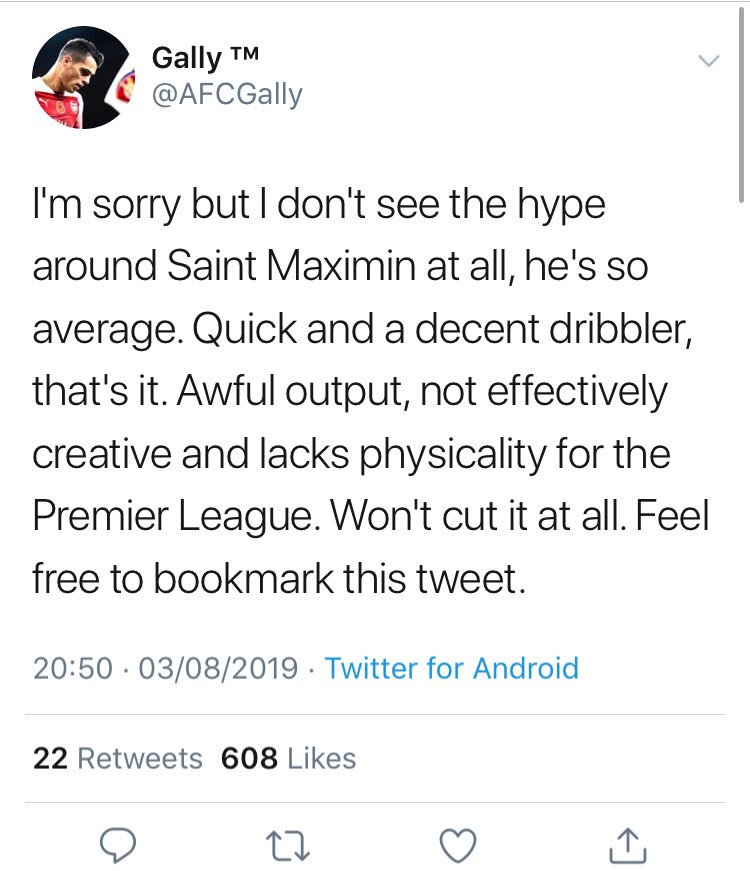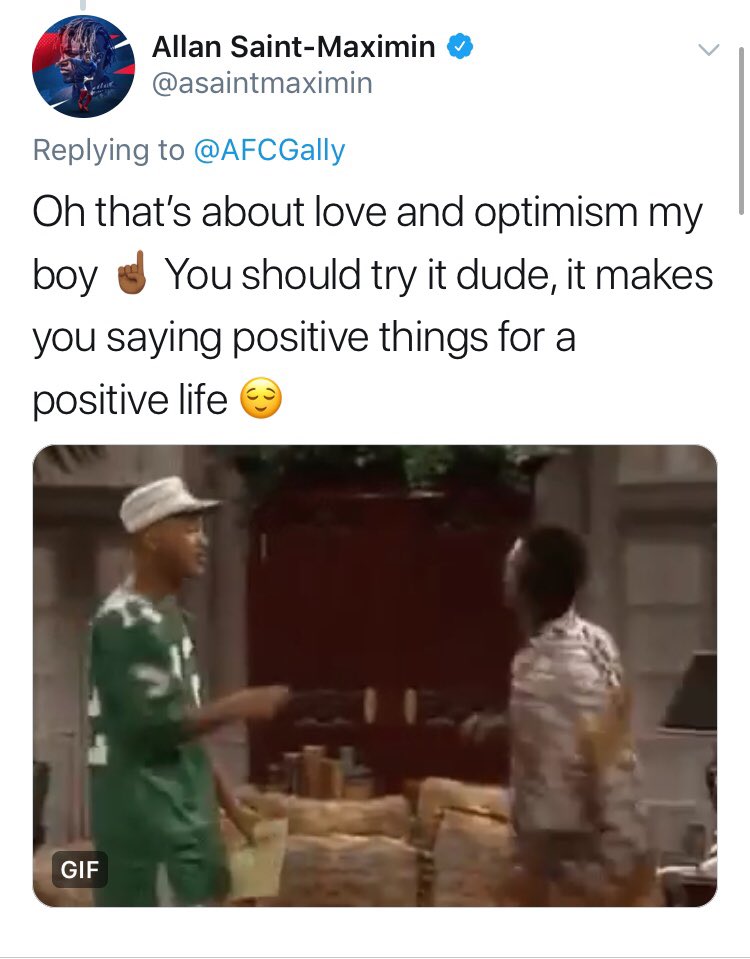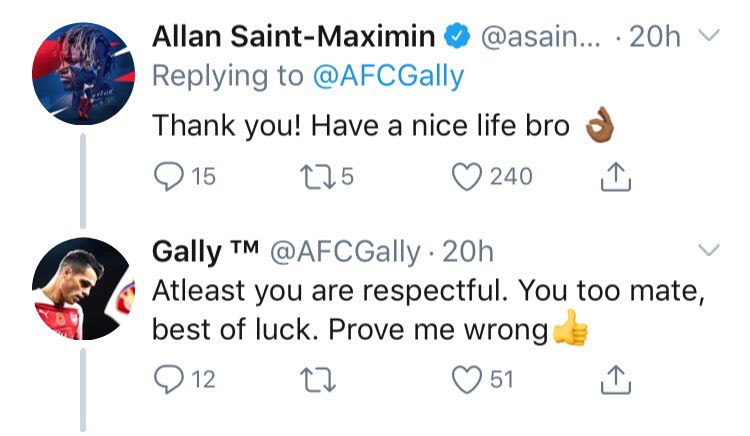 OPINION
Newcastle play Arsenal on Saturday in their first game of the new Premier League season, and this Gunners supporter may end up looking foolish. While the Arsenal fan tried to cover himself in case Saint-Maximin does well on Saturday at the death, by saying "prove me wrong", it's fair to say his tweet may resurface based on how the 22-year-old fairs. The Frenchman scored six goals and assisted five in his 2018/19 campaign for Nice and it's clear that he could improve on his end product. Saint-Maximin averaged 2.2 shots per game, so perhaps should have scored more, and his pass completion rate was only 76% in his latest campaign and that suggests there is room for improvement (Source:WhoScored). However, the winger is more than capable of impressing at St James Park in the upcoming campaign, starting with the clash with Arsenal if Steve Bruce chooses him, as he did average an impressive rating of 7.21 in his latest campaign. Also, it is worth pointing out, it is so unusual and refreshing to see a high-profile footballer respond so frequently to fans on Twitter.