OPINION
Newcastle United may regret not acting in their pursuit of Liverpool attacker Harry Wilson after Sky Sports journalist Mark McAdam compared the 22-year-old to Matt Ritchie.
Sky Sports reported earlier in July that the Magpies were in the early stages of talks with the Reds about Wilson, with Sky Sports journalist Keith Downie going on to claim later that month that Steve Bruce's side were unlikely to get him as he wasn't available on loan.
Downie added that Wilson was valued at £20million, so it's no surprise that lowered the chances of Newcastle making a move as that's a notable sum to pay for someone without Premier League experience.
However, on Tuesday, it was reported by the Evening Standard that while Newcastle and Aston Villa's interest failed to turn into concrete bids, Wilson was now set to join Bournemouth on a season-long loan with Jurgen Klopp seemingly having a change of heart.
Given that the newspaper claimed talks were moving between the Cherries and the Reds so fast that a deal could be concluded later today, it's likely the Magpies have missed out.
They will likely regret this as if they had acted in the pursuit of Wilson, they may have been able to get his price down slightly or ended up forcing Klopp to agree to a loan, as Bournemouth seem to have managed to get the Reds boss to change his stance.
Newcastle will also regret not snapping up Wilson after McAdam described the 22-year-old as reminding him of Magpies winger Matt Ritchie.
"This a huge deal for Bournemouth, he is a very exciting player, he was quality for Derby under David Brooks, he's got a touch of the Matt Ritchies about him, he's a winger who has quality, can score goals, we've seen it in Championship, he doesn't just knock in simple goals, he does it from distances, from free-kicks, does it with quality, he is one of those who really get fans on their feet," said the Sky Sports journo on Sky Sports News (9:10am, August 6th)
Given that Ritchie is 29-years-old and that previous Magpies boss Rafa Benitez was thought to believe the Scottish winger wasn't capable of playing 25 games a season, as per the Daily Mail, bringing in someone who is younger, but similar, would have been a smart business decision.
It's easy to see why McAdam has compared Ritchie with Wilson as both are wingers capable of being creative threats while having a bit of a bite to their game when you compare how both their league campaigns went on last season on WhoScored.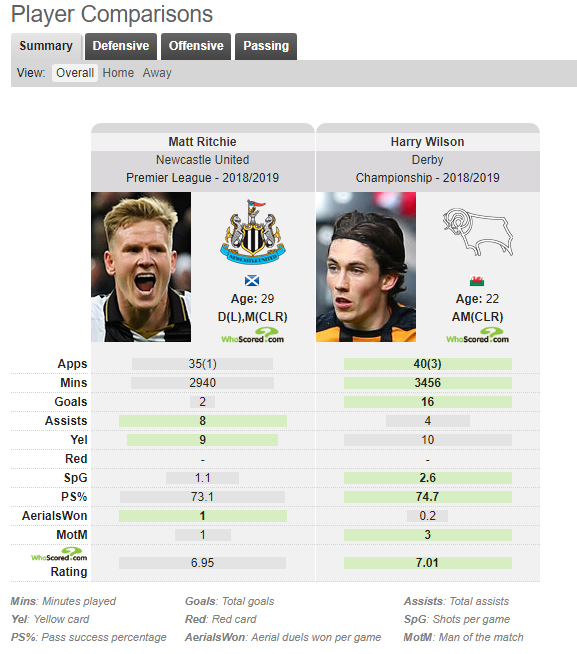 Ritchie was involved in getting the Magpies 10 goals last season, which is good considering he was utilised as a wing-back for part of the season, while Wilson was involved in 20 goals in the Championship for Derby.
Both ended up with a lot of yellow cards, Ritchie had nine, Wilson had 10, which shows both are eager to get stuck in despite being the creative threats in their team.
So with McAdam right to compare the two to a degree, you do feel Newcastle may regret not going in harder for Wilson as he could have been a long-term successor for Ritchie.