'Newcastle Matters' presenter Steve Wraith has hammered Newcastle United, claiming the club is now a 'farce', as it was under former manager Steve McClaren.
The former England boss spent a dispiriting and unsuccessful time in charge of the Magpies during the 2015-16 season, and Wraith believes the departure of Rafael Benitez has seen the north east giants return to that nadir.
"We've had a three-year sabbatical under Rafa," he told Love Sport Radio. "I was in a very fortunate position working with Rafa's team. From my position, losing Rafa was a double blow, really.
"We lost Rafa Benitez as a manager, but I lost three good friends who were working at the football club. It's become, now, what it was under McClaren. It's become a bit of a farce."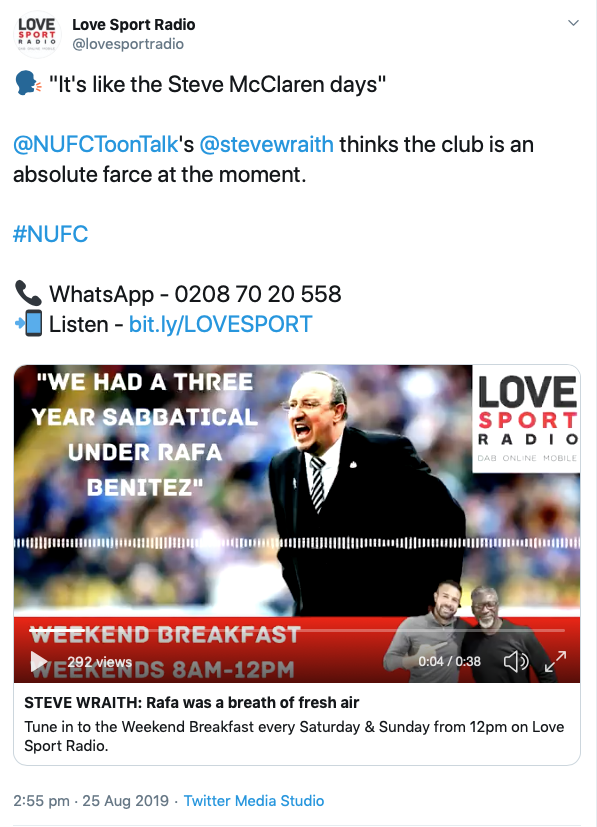 OPINION
Wow, Wraith really isn't holding back, is he? Clearly the loss of Benitez at the end of last season was something that hurt him personally and in regards to his favourite football club. He claims he was working closely with Benitez's team to build communication between the Spaniard and the Newcastle supporters. Therefore, as he says, he lost some professional friends when Benitez departed to go to China. That seems to be where the bulk of his frustration comes from. However, the timing of this tirade is curious. The Magpies just won their first game of the new season, dispatching Tottenham Hotspur 1-0 in a brilliant team performance on Sunday. Yes, that doesn't fix anything at the club, but it's a positive step on the pitch. The appointment of Steve Bruce as Benitez's successor had echoes of McClaren joining the Magpies, but the former deserves to be given a chance to show what he's capable of in charge of the club, and labelling Newcastle a 'farce' at this stage of the campaign seems a bit strong.