NUFC Matters presenter Steve Wraith has told Newcastle United head coach Steve Bruce that he should stop talking about dissenting supporters.
The former Sheffield Wednesday and Sunderland boss arrived at St James' Park this summer to much uproar from the fan base, but Wraith feels he would get along better not mentioning them at all.
"I think he could help himself, essentially, by not mentioning the supporters as much," he told Love Sport Radio. "Saying he's going to shut people up and talking about the owner.
"If I could give him advice, that's my advice to him: just concentrate on football affairs and the team – don't answer questions about things you don't need to."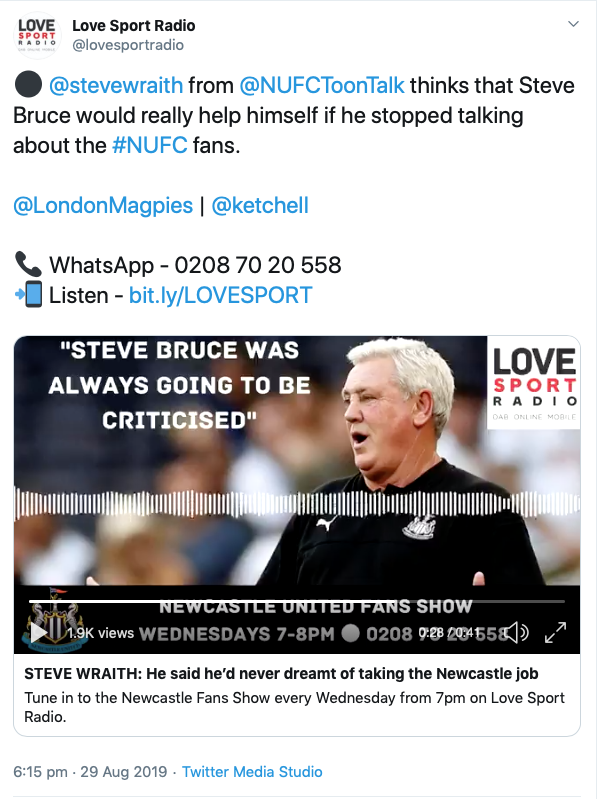 OPINION
This is all easier said than done, isn't it? If Bruce is asked a question about dissenting supporters, what is he supposed to do? Say no comment? We saw how that particular answer from Newcastle officials went down earlier this summer. He was always going to be questioned about the frosty reception he got upon his appointment as Magpies boss, and so he had to address it at some point or another. To tell him to focus on football matters… what do you think he's doing? Of course Bruce is focusing on football matters, what else would he be doing? Just because he talks about turning the fans around, showing them that he can do a good job at Newcastle, doesn't mean that he has taken his eye off what is happening on the pitch. This is all a bit harsh from Wraith, who would seem to be part of the anti-Bruce brigade. That's fine, but his advice to the Newcastle boss is entirely nonsensical, here.