Jonathan Walters has slammed Michael Chopra over his claims that the Newcastle United squad are lost under Steve Bruce.
The former Magpies' forward claimed in an interview with talkSPORT that senior players at the club didn't know their roles and that Bruce doesn't work on his system during training.
Walters took to his personal Twitter account to rubbish Chopra's claims, saying there is "not a chance" that players at the club can't grasp what is required of them.
"I've spoken to some players and they don't know their jobs," he wrote.
"1. Not a chance a player at the highest level can't grasp basic football knowledge 2. IF they don't know their jobs..why don't they grow a pair, go to see the manager and find out? 3. Stop talking."
Chopra was speaking after Newcastle's 3-1 defeat to Norwich on Saturday, in which he claimed the attitude of the players was "disgusting."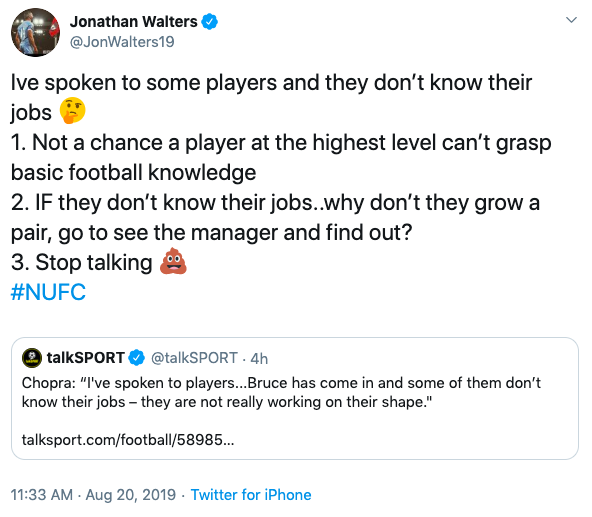 OPINION
Walters is spot on, if Newcastle players are confused over what Bruce wants from them, then all they should do is ask. Having said that, you could easily see that the Magpies were lost in their system against Norwich. Bruce has set his side up in a five-at-the-back formation, something that Rafael Benitez had them playing last season, so that isn't the problem. What Benitez did do, however, was deploy an extra forward compared to Bruce, who has taken the decision to pack out his midfield with an extra man. The new manager was most likely hoping to see his side dominate possession more against teams such as Norwich, but it hasn't worked so far, with Newcastle only averaging 41.2% possession so far according to WhoScored. Jonjo Shelvey has anchored the midfield which has pushed Isaac Hayden to one side and isolated him too wide on the pitch to make too much of an impact. On top of that, Joelinton and Miguel Almiron are leading the line but with no link between midfield and attack, they have not delivered any sort of impact. Bruce needs to find a more effective system going into the remainder of the season, and face relegation if he doesn't fix his current predicament real quick.