OPINION
Steve Bruce is surely worrying after Jamie Redknapp implied he wasn't confident about Newcastle United's chances in their first five league games of the upcoming season.
The pundit revealed that while he has always liked the Magpies boss, he feels the manager could be in for a tough time at St James Park as the fans were in love with his predecessor Rafa Benitez.
Redknapp then focused on the Magpies' opening fixtures, in a way that implied he wasn't confident about them being winnable games and stated that if Bruce doesn't start well then it could get ugly.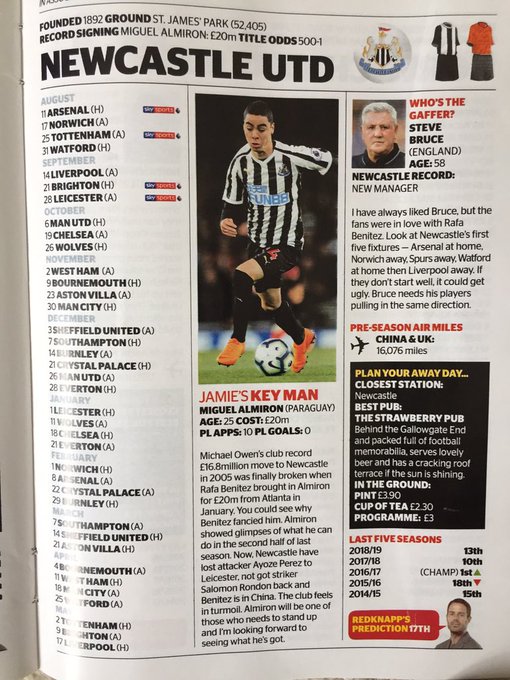 "I have always liked Bruce, but the fans were in love with Rafa Benitez," wrote Redknapp in his club-by-club guide pullout for the Daily Mail (Saturday August 3rd, page 21).
"Look at Newcastle's first five fixtures – Arsenal at home, Norwich away, Spurs away, Watford at home then Liverpool away.
"If they don't start well, it could get ugly.
"Bruce needs his players pulling in the same direction."
Redknapp is right to suggest the Magpies have a hard start to life in the upcoming season as facing top-six contenders: Arsenal, Tottenham and Liverpool will likely end with Newcastle losing to all three of those teams.
Things are only made worse with the pundit also implying that the trip to Norwich is a potentially tricky encounter for the Magpies, as it shows how low Redknapp rates them, as normally you'd back Newcastle to be able to beat one of the Premier League new boys, regardless of where the game is hosted.
Redknapp also ended up predicting that Newcastle will finish 17th, and that shows how he feels they don't necessarily have the quality to rack up wins for fun in the coming season.
While he has predicted them to narrowly avoid relegation, Newcastle fans will expect more and you can imagine a hostile atmosphere if Bruce struggles.
Newcastle fans haven't held back with their anger towards Bruce as it is, and he hasn't managed a competitive game yet, as the Daily Mirror previously reported how nine fan groups came together to plot a boycott after he was appointed.
And the number of angry fans will only grow if results don't come thick and fast.
You feel that while the majority of anger is currently directed at Mike Ashley, it could soon be heading in Bruce's direction.
While Redknapp doesn't have a 100% record with predictions, what pundit does? There's clearly a reason he is worried about the potential ugly scenes that could occur at St James Park.