Alan Shearer has liked a tweet posted by Jonathan Walters as a social media row broke out about Steve Bruce and Newcastle.
It started when Michael Chopra conducted an incendiary interview on talkSPORT where he said that Newcastle players didn't know what their job was under Bruce and that they hadn't been working on their shape in training. Chopra said that he'd spoken to some senior players at the club but didn't name names.
talkSPORT tweeted Chopra's interview on Tuesday morning.
Chopra: "I've spoken to players…Bruce has come in and some of them don't know their jobs – they are not really working on their shape." https://t.co/WaEkINmXeZ

— talkSPORT (@talkSPORT) August 20, 2019
Jonathan Walters hit back on Twitter making three points to Chopra.
He said: "1. Not a chance a player at the highest level can't work grasp basic football knowledge. 2. If they don't know their jobs why don't they grow a pair, go to see the manager and find out? 3. Stop talking s**t."
At the time of writing this article, the tweet had been liked over 6,000 times and one of them came from Shearer.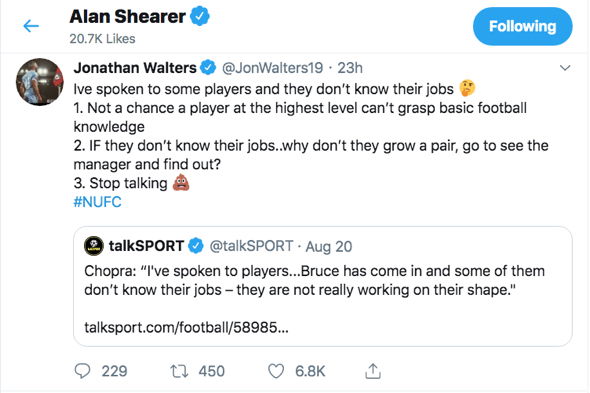 OPINION
Alan Shearer has been highly critical of Mike Ashley in the past, saying he'd sucked the life and soul out of the club in a recent interview. However, he doesn't share the same feeling the fans do about Steve Bruce. The two are friends and Shearer wants Bruce to be a success at St James' Park. He's obviously siding with Walters over the Chopra row but it puts him on a potential collision course with the fans. They will know that Shearer only wants the best for the club, although a pro-Bruce bias could well test the relationship unless things improve quickly. Under Bruce, Newcastle have lost their first two Premier League games and there does seem to be evidence that communication isn't great at the club. There was confusion over Jetro Willems' introduction into the Arsenal game, with the player starting off in central midfield before moving to the left after some frantic communication from Bruce. Chopra's comments would seriously undermine Bruce's position if true but the former player hasn't named any of the players and it's all conjecture at the moment. Paul Dummett had said that things weren't right in warm-up for the game against Norwich but later posted a tweet clarifying his position and saying it was the players' fault not Bruce's. Whatever is going on, the club needs to get a handle on communications coming out from players and from the club before things get any worse.