Alan Shearer has labelled relegation as a real possibility for Newcastle United this season in the Premier League.
The former Magpies forward revealed how he believed there were three worst teams in the top-flight than Newcastle at the beginning of the season, but the opening fortnight has concerned him massively.
Writing in his column for the Sun as posted by journalist David Coverdale on his personal Twitter account, Shearer outlined how his former side were all over the place against Norwich, and that it wouldn't have happened under Rafael Benitez.
Newcastle have failed to pick up a single point in there opening two games this season, and travel to Tottenham on Sunday.
"I think relegation is a real possibility," he said.
"Before the season, I thought there might be three worse teams than Steve Bruce's side. But on the evidence of two matches, I'm definitely concerned."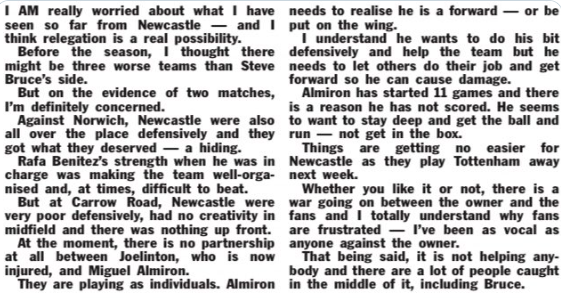 OPINION
Shearer is right to be concerned, with Newcastle clearly not having a plan that can guide them to victories in games. Bruce has to take the blame for that, with his set up before fixtures not giving his side much help to control games in the top-flight. As Shearer mentions, Almiron and Joelinton are too isolated in attack, with the midfield three behind not linking up one bit with their forwards which is leading to a lack of chances being created. There struggles stem from them not being able to keep possession during games meaning they are on the back foot constantly. The Magpies have only averaged 41.2% possession in their two games, with their pass success rate of 78.2% probably a big reason behind that [WhoScored]. Newcastle have only averaged 10.5 shots on goal per game in the opening fortnight of fixtures, compared to newly-promoted Norwich, who dismantled them on Saturday, who have averaged 13.5 according to WhoScored. Newcastle need to go back to the basics that Benitez instilled in them so well last season, with Bruce trying to explore a system that clearly doesn't work, and with the constant pressure from the fans and board, time may not be on their side.