Newcastle United were never interested in signing Czech Republic striker Patrik Schick from Roma this summer, according to Sky Sports journalist Pete Graves.
Sky Sports Italy reporter Gianluca Di Marzio had claimed on Wednesday evening that Schick, 23, rejected an offer to join Newcastle on loan as Steve Bruce eyed one more addition to his strikeforce before Thursday's transfer deadline at 5pm.
However Graves, via his personal Twitter account later on Wednesday, has shared that his sources close to Newcastle have rubbished any interest in the former Sampdoria centre-forward.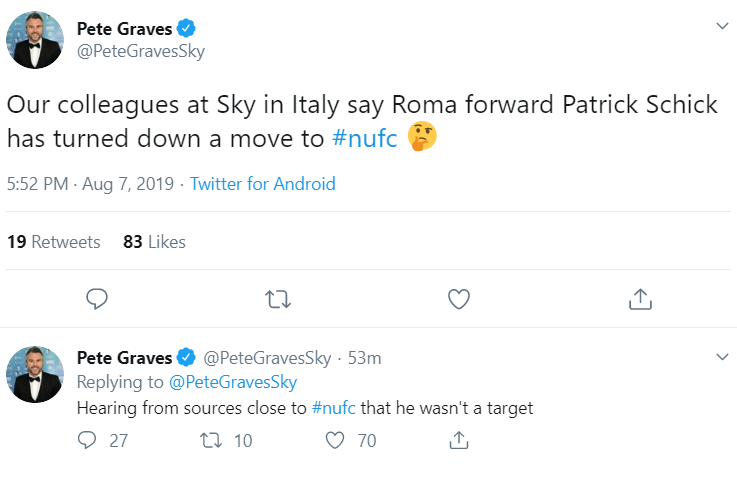 OPINION
Newcastle have not been linked with Schick this summer up until now so this news story about the Czech forward has come out of nowhere really. Di Marzio's report does add that Schick wants to join Borussia Dortmund, so this news could have been put out there by an agent to try and attract some attention in his client. It's understandable that Schick would want to quit the Stadio Olimpico. Since joining Roma from Sampdoria in 2017 he has scored just eight goals in 58 total appearances across all competitions. For someone who was extremely highly-rated before he went to Rome, those stats are very underwhelming to say the least and a move elsewhere may be able to revive what appears to be a stalling career. That place won't be Newcastle, which in a way is unfortunate. Yes, Schick's struggled in Rome, but a change of scenery could be enough to spark him into life. Bruce could do with another striker before the 5pm transfer deadline on Thursday, but it does not look like that is going to happen.