Sky Sports reporter Pete Graves has taken aim at actor and well-known Newcastle United fan Steve Wraith for his attack on the club's signing of striker Andy Carroll.
The 30-year-old returned to St James' Park after eight and a half years on transfer deadline day, but Wraith believes the signing was nothing more than a publicity stunt by the club's owner Mike Ashley.
Graves took exception to that: "Jeez Steve!," he wrote on his personal Twitter account. "It could be a really smart bit of business in my opinion.
"Truth is neither YOU nor I (or anyone) knows for sure right now. Do you want him to fail??? I hope he proves to be a bargain," he finished.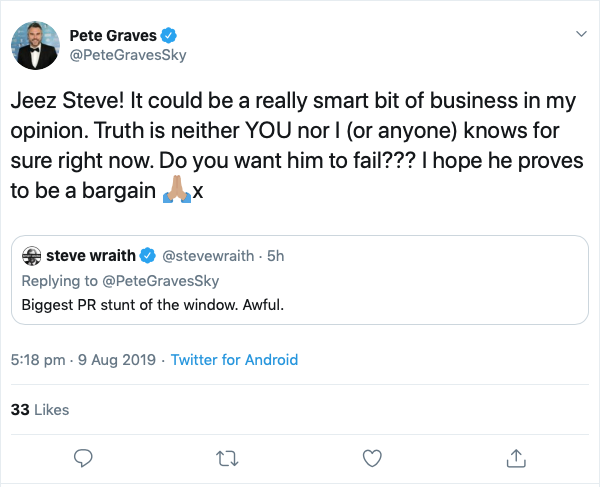 OPINION
It seems that Wraith's criticism of the Carroll signing isn't really about the player at all, more of an attack on the club's owner. Graves appears to have got the wrong end of the stick here by making this about Carroll, which it doesn't seem like it is. The thing about this is that the England international isn't a great player at this stage of his career for a variety of reasons. This is far from a nailed-on success of a signing. However, it's a no-lose situation for the Magpies, really. If Carroll comes in and picks up another serious injury, no bother he wasn't on much money anyway. But if he arrives, maintains his fitness and does his job by bagging a few goals and providing a physical presence, then that's exactly what he was brought in to do. Wraith likely doesn't want Carroll to fail, he just thinks this is a transparent attempt by Ashley to curry favour amongst a fanbase that universally despises him.