Clubs' ability to contribute towards Newcastle United attacker Dwight Gayle's Premier League-level wages will decide where he heads on loan this season, according to The Sun journalist Alan Nixon.
The national reporter revealed the news on his personal Twitter account on Saturday, claiming the best financial offer for the 28-year-old's service will win out.
The Daily Star reported on Friday that Championship heavyweights are eyeing Gayle if they lose attacker Kemar Roofe, with Magpies boss Steve Bruce ready to make him available for loan, and Nixon believes it will be a crowded market for the Englishman.
"It will come down to who pays Newcastle the biggest part of his salary in a loan deal … there will be loads in. Can't see anyone buying him and picking up the wages. A prince at that level all the same."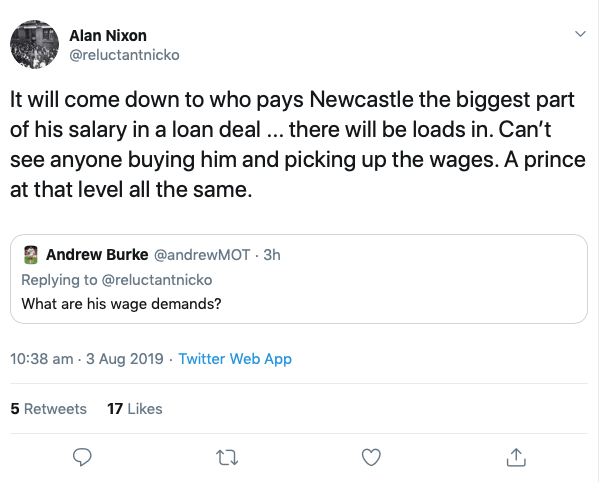 OPINION
It certainly would be a surprise to see a Championship side buy Gayle, given how much they'd likely have to pay him in wages, as well. As per Spotrac, the former Crystal Palace frontman is on £40,000-per-week at St James' Park, a sum which is going to be nigh on impossible for most second tier sides to match. However, it would be achievable for a team to pay half of that amount, with Newcastle covering the other 50% of the player's wage bill. That seems like the most likely scenario, and it's certainly what Nixon expects to happen. The journalist believes that there will be plenty of teams in for the frontman, so it would seem to be down to which one of them can provide the Magpies with the best financial offer in terms of wages. If somebody could pay £25,000 or £30,000-per-week, then that would probably do the job. Whether anyone is prepared to do that, though, very much remains to be seen at this stage.