Newcastle United head coach Steve Bruce has confirmed that centre back Fabian Schar was suffering from dizzy spells at half time against Watford on Saturday.
The Switzerland international was surprisingly brought off late on in the 1-1 draw at St James' Park, despite having scored for the Magpies earlier on in the game.
Now, Bruce has explained why he was replaced: "He was having dizzy spells at half-time," he said after the match, as per journalist Lee Ryder's personal Twitter account.
"We took him off towards the end."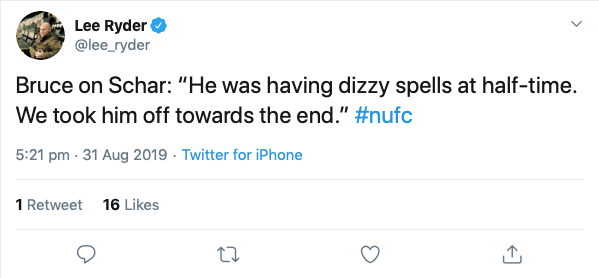 OPINION
The big question after Bruce's comments is why wasn't Schar brought off at half time if he was suffering from dizzy spells? Why was he allowed to go back onto the pitch after the break and continue playing? This is a man who suffered a heavy clash of heads several months ago while on international duty with Switzerland. He was allowed to carry on playing there, and the Swiss FA were heavily criticised for allowing him to do so. However, when another head-related issue occurs on Saturday, Newcastle make the decision to keep him out on the pitch. That is just baffling, especially when Bruce had a natural replacement on the bench in veteran centre half Federico Fernandez. Really, this just demonstrates a clear lack of understanding of potential head issues. Surely it's better to be safe than sorry, even if the player felt he was fine to stay on. You've got to put these players' health first, and it doesn't sound as if Newcastle have done that, here.